Career, NCAA Championships Conclude for McMillan
CLU senior improves three spots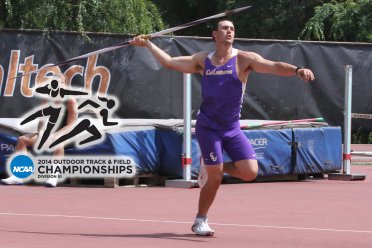 DELAWARE, Ohio – A fine two-year Cal Lutheran career for Bjorn McMillan concluded on the final day of competition at the 2014 NCAA Division III Outdoor Track & Field Championships hosted at Ohio Wesleyan this afternoon.
The senior recorded a Javelin Throw of 56.68m today, which came on his third and final attempt to finish 15th. McMillan entered the meet with the 18th best mark in the country at the D-III level after throwing a 59.73m during the regular season.
Earning the title was freshman Mitchell Obenrader from Penn State-Behrend with a best-throw of 67.01m. Joining the CLU thrower from the Southern California Intercollegiate Athletic Conference (SCIAC) was Matt Rehder, a senior from La Verne who placed 19th.
McMillan served as the lone Kingsmen competitor at Selby Stadium and the George Gauthier Track during the 2014 edition of the national meet.
Release: 2014 NCAA Outdoor Men's Track and Field Championships
Accepted Entries: 2014 NCAA Championship Competitors
Championship Central: 2014 Track & Field Championships
CLU Twitter: https://twitter.com/clusports
Follow Amanda: @RegalsTrack
CLU Facebook: https://www.facebook.com/clusports
CLU Instagram: http://instagram.com/clusports#