Trio of Regals Earn All-America; CLU Combines for Best Team Finish in History
Regals represent CLU at highest level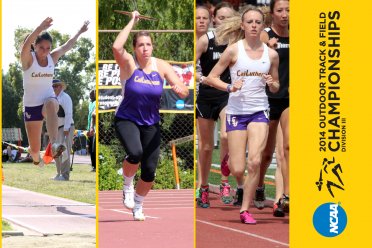 DELAWARE, Ohio – The final day of the 2013-14 competition season for all sports was a highlight reel as three Cal Lutheran women earned All-America status and the team finished tied for 11th at 2014 NCAA Division III Outdoor Track & Field Championships hosted at Ohio Wesleyan.
On a gorgeous day the Regals were excited to be in action on the national stage and performed well to close out the 2014 campaign. All three Saturday competitors will return to Southern California with hardware.
A year after placing seventh in the Javelin Allie Hadley climbed five spots, finishing where she was seeded. The sophomore started the podium stand earning All-America in the event. After a shaky start, she took a deep breath, relaxed and tossed the implement 44.12 to advance to the finals. Her fifth throw of 46.48m was what earned her the highest honor available to student-athletes.
"After that throw I was ecstatic," Hadley shared, "Even though I knew the best I could do was 2nd place it felt as if all the hard work that my coaches and I put in this season had paid off."
Following suit was Melissa Skiba who was part of the fastest 5,000m field in Stadium history as nine women broke the previous record. Her 16:32.99 was just off her CLU record. She placed second, which was her seed as well, behind Wisconsin-Oshkosh senior Christy Cazzolla who clocked a 16:29.96.
To round out the accomplishments, Amanda Hamilton used a school record Triple Jump of 12.08m on her final attempt of the day to lock up the 6th position to become an All-American for the first time. In 2013 as a freshman, Hamilton placed ninth.
Cal Lutheran won the first outright SCIAC title in program history in 2014 and the 11th place finish as a team is the best in program history by a long shot.
Results: 2014 NCAA Division III Championships
Championship Central: 2014 Track & Field Championships
CLU Twitter: https://twitter.com/clusports
Follow Amanda: @RegalsTrack
CLU Facebook: https://www.facebook.com/clusports
CLU Instagram: http://instagram.com/clusports#