Rohach Wraps Up Storied Career
Seniors run for final time in Violet and Gold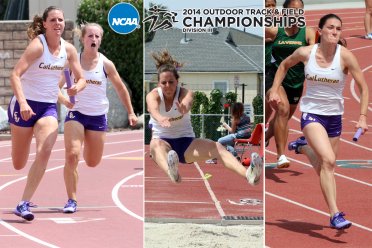 DELAWARE, Ohio – The career of the most decorated Cal Lutheran student-athlete of all-time came to a close on Thursday. Lauren Rohach accumulated more All-SCIAC accolades (16) in her tenure at Cal Lutheran than any other competitor to don the Violet and Gold, male or female, over the last four years and she concluded her competitive days on the national stage.
On the first day of the 2014 NCAA Division III Outdoor Track & Field Championships hosted at Ohio Wesleyan, Rohach pulled double duty for the final time after serving as a four-year, two-sport athlete for the Regals, earning six league titles, while excelling in the classroom.
Individually, she jumped 5.31m to maintain the 17th position she entered the meet with. She then teamed up with Kendall Sauter, Amanda Hamilton and Amy Galipeau to run the 4x100m Relay as the quartet clocked a 48.10.
The victorious 4x100m team came out of Wisconsin-La Crosse with a Selby Stadium record time of 46.01. CLU narrowly edged Southern California Intercollegiate Athletic Conference (SCIAC) foe La Verne by one hundredth of a second. The Long Jump title went to Naomi Bates, a senior from Amherst who leapt 6.02m.
While the careers of Galipeau, Rohach and Sauter came to a close, Hamilton will be back in action on Saturday, May 24 when she hopes to climb into All-America positioning in the Triple Jump as the sixth seed. Also competing for CLU will be Melissa Skiba (5,000m) and Allie Hadley (Javelin) as each enters the day ranked second nationally and intends to contend for a national title.
Saturday will be the final day of the 2014 season and will feature Bjorn McMillan in the Javelin Throw for the Kingsmen as well.
Competition will take place at Selby Stadium and the George Gauthier Track. The Championship Central page will have all pertinent information for athletes, coaches and fans.
Results: 2014 NCAA Division III Championships
Championship Central: 2014 Track & Field Championships
CLU Twitter: https://twitter.com/clusports
Follow Amanda: @RegalsTrack
CLU Facebook: https://www.facebook.com/clusports
CLU Instagram: http://instagram.com/clusports#