Cardenas Bounced in Round of 16
CLU junior advances to sweet sixteen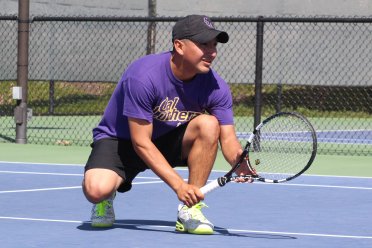 CLAREMONT, Calif. – Cal Lutheran junior Moises Cardenas was on both sidesof some luck during the NCAA Division III Men's Tennis Championship Thursday.
In his round of 32 match against Alex Ruderman of Emory, Cardenas benefited from a double-fault serving error on match point. In the round of 16, Cal Lutheran's lone qualifier was held in check by Wade Heerboth of Kenyon and was bounced from the tournament.
Facing third seeded Ruderman, Cardenas wasted no time jumping out in front, taking the first set 6-3. In the second set, Cardenas couldn't quite hold on for the win as Ruderman took the set tie-breaker 7-5 and forced a final set. The two would play back and forth before Ruderman served twice into the net on the final point, giving Cardenas the upset. The win over Ruderman also marked the fourth upset of the round of 32.
Unfortunately, Cardenas would see his run and his season come to an end as Heerboth won the round of 16 match in straight sets, 6-1, 6-2.
Cardenas finishes 18-5 in his debut season. The single championships will continue on Friday with action taking place at Biszantz Family Tennis Courts in Claremont, Calif.
Results: 2014 NCAA Men's Division III Tennis Championships
CLU Twitter: https://twitter.com/clusports
CLU Facebook: https://www.facebook.com/clusports
CLU Instagram: http://instagram.com/clusports#