Pair Honored as Coaches of the Year
CLU coaching duo regionally honored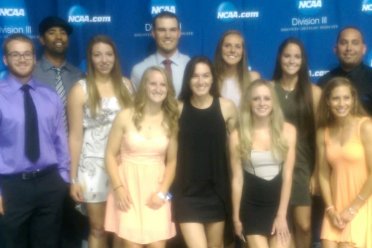 NEW ORLEANS, La. – Hard work clearly pays off and that is not just looking at the student-athletes donning Violet and Gold for Cal Lutheran. Earlier this week the United States Track and Field and Cross Country Coaches Association (USTFCCCA) announced the recipients of the regional Coach and Assistant Coach of the Year awards and a pair of CLU leaders was honored.
During the NCAA Division III Outdoor Track & Field Championships banquet both head coach Matt Lea and assistant coach Geno Sullivan were recognized.
In his sixth year at the helm of the women's track and field program, Leaguided the Regals to the first outright Southern California Intercollegiate Athletic Conference (SCIAC) title in program history after the 2012 squad shared the top of the podium. Four individual league champions were crowned for the Regals and CLU concluded the regular season ranked No. 2 in the West Region. Currently, the program is ranked No. 11 in the nation entering the championship meet this weekend.
Sullivan also joined Lea on stage. In his eighth-year as an assistant, Sullivan coached his jumpers, sprinters and relay teams to more than a third of the total points earned at SCIAC Championships, which aided in clinching the league title. He is responsible for coaching three of the five entrants in the NCAA Championships with the quartet of Kendall Sauter, Lauren Rohach, Amanda Hamilton and Amy Galipeau joining forces for the 4x100m Relay while Hamilton and Rohach will compete in the Triple Jump and Long Jump, respectively.
"Geno is so deserving of this honor and has worked hard for it," Rohach shared, "We are so excited for him, because he has been so supportive of the athletes, even those he does not specifically coach," she went on, "Our success and this team's success shows firsthand what kind of impact he has had on this program. This award is a reflection of that and we could not be happier to see him get that this year!"
In addition to his successes this season on the track, Sullivan has served as an assistant football coach for seven years and has aided the Department of Athletics in a variety ways during his tenure. He has coached his student-athletes to numerous All-SCIAC and All-American awards, including two-time track and field Triple Jumper and 2012 football All-American Eric Rogers. 'Sully' as known by the CLU community will be retiring from collegiate coaching at his alma mater after this weekend and turning his attention to the high school level.
Seven combined members of Cal Lutheran men's and women's squad will compete at the 2014 Outdoor Women's Track and Field Championships hosted by Ohio Wesleyan in Delaware, Ohio from May 22-24.
Competition will take place at Selby Stadium and the George Gauthier Track. The Championship Central page will have all pertinent information for athletes, coaches and fans.
Release: Head Coach of the Year
Release: Assistant Coach of the Year
Accepted Entries: 2014 NCAA Championship Competitors
Championship Central: 2014 Track & Field Championships
CLU Twitter: https://twitter.com/clusports
Follow Amanda: @RegalsTrack
CLU Facebook: https://www.facebook.com/clusports
CLU Instagram: http://instagram.com/clusports#