Five Kingsmen Earn All-SCIAC
CLU lands three on First Team, two on Second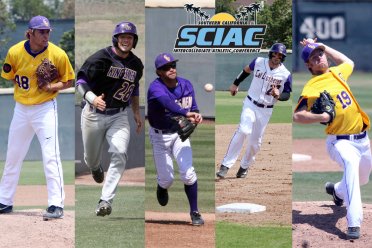 PASADENA, Calif. – Announced today by the Southern California Intercollegiate Athletic Conference (SCIAC), five Cal Lutheran baseball players earned All-SCIAC recognition for his league performance in 2014.
The trio of Nicho DellaValle, Jake Petersen and Aaron Roth hauled in First Team All-SCIAC honors as seniors. They are all repeat recipients after standout junior and senior seasons in which they led the Kingsmen to consecutive SCIAC titles, SCIAC Post Season Tournament championships and NCAA berths. Scott Peters also became a two-time honoree, earing Second Team accolades for the second season and he was joined by newcomer Collin Crowl.
DellaValle batted primarily in the two-spot and produced a .389 batting average from 37 hits, which included eight doubles, two triples and two homeruns while walking 12 times. DellaValle had 15 multi-hit games, collecting three hits twice and four hits once. He drove in 15 runs and scored 30 after stealing six bases. Additionally, he provided a sacrifice fly and four sacrifice bunts. Defensively, he split time at shortstop (13 starts) and second base (12 starts), converting 110 total outs with 38 putouts and 72 assists and was part of 10 double plays this spring in SCIAC games.
On the mound, Petersen (5-2) and Roth (3-1) were the CLU ace and closer, respectively. Roth was called in from the bullpen in 13 games and was part of one combined shutout, earing five saves. He accumulated 28.2 innings, striking out 26, walking just seven, and holding the opposition to a .176 batting average to finish with a 2014 ERA of 1.26.
Petersen started eight times and threw two complete games for a team-leading 54.2 innings. He struck out 47 and opponents produced a .255 batting average against him. Not only was he a threat on the hill, but he was the CLU three-hole hitter, tallying team-bests with a .468 batting average, 44 hits, 11 doubles and 31 runs, sharing the lead with Ramsey Abushahla. He had 13 multi-hit games with 10 in which he notched three of more. Petersen also walked 17 times and was hit by a pitch once, went 3-for-3 in stolen bases and drove in 18 runs. He reached base in 24 consecutive SCIAC for the Kingsmen as a senior. In the field, he was nearly perfect with 17 putouts and 12 assists in 30 chances.
Another Cal Lutheran pitcher honored was Peters. As a junior, the southpaw used a pair of complete game shutouts to earn a 4-2 record with a 3.33 ERA. He worked 51.1 innings, striking out 31 men, allowing a .254 batting average against. His uncanny ability to keep batters off balance was instrumental in his success.
Rounding out the CLU recipients was starting first baseman Crowl. In his first season at Cal Lutheran, the junior hit .379 with 12 multi-hit games and eight multi-RBI games in the fifth spot of the order. Crowl had one four-hit game and completed his first SCIAC campaign with a total of 39 hits, which included 10 doubles and a homerun. His 27 RBIs were tops on the team and he came in to score 25 runs for the Violet and Gold. Crowl lifted three sacrifice flies, adding four sacrifice bunts and was 2-for-2 in stolen bases. Defensively, he was solid with a single miscue in 226 chances that included 209 putouts and 16 assists and 15 double plays at first base.
Cal Lutheran (34-8) earned a berth in the 2014 NCAA West Regional at Linfield (Ore.) College between May 14-18 by winning the Second Annual SCIAC Post Season Tournament on May 2-4. Final seedings of the 56 advancing teams and match-ups will be announced by the NCAA on Sunday, May 11.
Release: 2014 All-SCIAC
CLU Twitter: https://twitter.com/clusports
Follow Nicho: @CLUBaseball
Facebook: https://www.facebook.com/clusports
CLU Instagram: http://instagram.com/clusports#