Cardenas Earns Invitation to Nationals
CLU junior to represent Kingsmen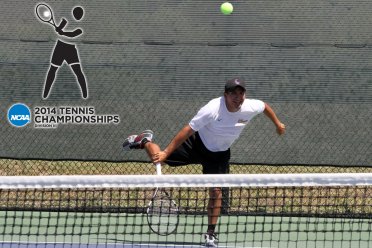 INDIANAPOLIS, Ind. –Announced today by the NCAA Division III Men's Tennis Committee, Moises Cardenas was selected to play in the 2014 NCAA Division III Individual Men's Tennis Championships hosted by Claremont-Mudd-Scripps between May 22-24 at the conclusion of Team Championships.
While Cal Lutheran did not qualify as a team in 2014, Cardenas, who led the Violet and Gold all season, playing No. 1 singles and No. 2 doubles, earned an individual bid to play for a National title at the Biszantz Family Tennis Center on the campus of CMS.
Cardenas finished the regular season with a 17-4 singles record and produced six- and seven-match win-streaks this spring. He only played a third set tie-breaker twice, going 1-1 as he fell to Warren Wood (CMS), but defeated Patrick Lipscomb (Redlands).
As a duo, he and Fergus Scott teamed up to go 11-10 with one appearance at No. 1 together. They won four consecutive matches during the middle of the season.
Joining Cardenas as one of 32 men chosen to compete in singles play from the Southern California Intercollegiate Athletic Conference (SCIAC) are Wood, Lipscomb, Skylar Butts (CMS), Joe Dorn (CMS), David Konstantinov (Whittier) and Nik Marino (CMS)
The NCAA Division III Men's Tennis Team Championships will take place Monday to Wednesday, May 19-21 preceding Individual and Doubles action.
Release: 2014 Selection Letter
Bracket: Will be available on May 21
Tournament Central: 2014 NCAA Division III Men's Tennis Championships
CLU Twitter: https://twitter.com/clusports
CLU Facebook: https://www.facebook.com/clusports
CLU Instagram: http://instagram.com/clusports#