Skiba Repeats as SCIAC AOW
CLU junior leads team to title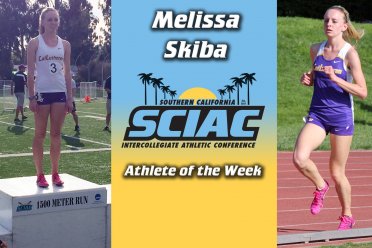 PASADENA, Calif. – Following an incredible performance at the 2014 Southern California Intercollegiate Athletic Conference (SCIAC) Championships on May 2-3, Cal Lutheran junior Melissa Skiba was selected as the SCIAC Female Athlete of the Week for the second time of the spring and fourth time this academic year.
The Cal Lutheran women's track and field team won the 2014 SCIAC title outright thanks to an extraordinary effort Skiba.
At the meet, the distance runner not only ran three events, which included five races, but she went on to win two individual SCIAC crowns and was runner-up in her third race.
She pushed her body to limits no other competitor did over the weekend. Skiba won the 800m in a CLU school record time of 2:15.24 after running the event for the first time less than a month ago, went on to win her signature event, the 1,500m, by more than four seconds in 4:32.18 and came back to run the 5,000m in 17:28.69 to take second.
Currently she is ranked nationally in all three events and will represent CLU at NCAA Division III Championships in late May.
Skiba was a two-time SCIAC Athlete of the Week selection during cross country season this fall as well as earning the honor on April 17 after breaking a SCIAC record in the 1,500m.
SCIAC Website: Female Athlete of the Week
CLU Twitter: https://twitter.com/clusports
Follow Amanda: @RegalsTrack
CLU Facebook: https://www.facebook.com/clusports
CLU Instagram: http://instagram.com/clusports#