Regals Earn SCIAC Tournament Berth
CLU defeats Oxy 5-0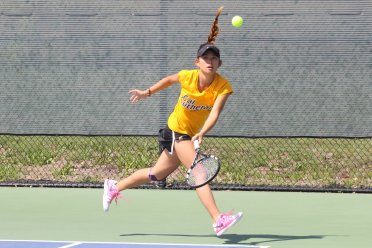 THOUSAND OAKS, Calif. – The Cal Lutheran women's tennis team kept its post season hopes alive as the No. 8 seeded Regals defeated No. 9 seeded Occidental 5-0 in the Southern California Intercollegiate Athletic Conference (SCIAC) Tournament Play-In Game Tuesday afternoon at the Poulson Tennis Center. With the win, Cal Lutheran earns a berth into the SCIAC Tournament and will take on No. 1 seeded Claremont-Mudd-Scripps on Friday.
Cal Lutheran wasted little time grabbing the edge in a match that would play as the first to five points. The No. 3 doubles pairing of Sarah Baker and Rebecca Drake quickly dispatched Hannah Cohen and Millie Krietlow 8-0. Dana Raugust and Lindsay Murphy kept the momentum going as they took the No. 2 double match 8-1 against Jesse Hernandez and Hannah Munkacsi. Cal Lutheran completed the doubles sweep with a hard-fought 8-6 victory by Rebecca Gold and Shelby Kubota over Amber Gadsden and Isabella Korfmann.
The Regals would need just two matches to get the deciding fifth point as Kubota earned a 6-0, 6-0 victory in the No. 4 pairing while Raugust got CLU the win a 6-0, 6-2 victory in the No. 5 game.
With the loss, Occidental concludes its season with a 1-14 record.
Cal Lutheran (4-12) will travel to Claremont, Calif. to take on the Athenas on Friday, May 2. The match is slated to get underway at 10:00 a.m.
Box Score: CLU 5 OXY 0
CLU Twitter: https://twitter.com/clusports
CLU Facebook: https://www.facebook.com/clusports
CLU Instagram: http://instagram.com/clusports#