Regals Claim Third Place at SCIAC Championships
CLU finishes 16 shots back of first place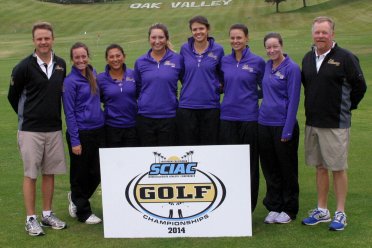 BEAUMONT, Calif. – Battling stiff winds and hot temperatures, the Cal Lutheran women's golf team rounded out the Southern California Intercollegiate Athletic Conference (SCIAC) Championships with a final round 360 on Tuesday afternoon at the Oak Valley Golf Club and finished in third place. The Regals' three-day score of 1,025 put them behind second place Redlands and first place Claremont-Mudd-Scripps. It marked the third straight year the Regals finished third at the conference tournament.
Tuesday proved to be the toughest scoring day of the tournament as no player in the field broke 80 and the best score was an 84. Leading Cal Lutheran was Jenna Gimbel who shot an 88 during the final round to give her a three-day total of 256. The junior transfer's combined score was good for 12th place.
Finishing in 14th place at the conference championships for the second consecutive year was McKay Weiler who shot a 90. The sophomore finished with a final score of 257 after shooting 84 on Sunday and 83 on Monday.
Playing in her first SCIAC Championships, Kelly Shotwell completed the tournament with a final round 91. Her three-day total of 259 was good enough for a top-20 finish as she came in a tie for 16th.
Danika Cochiolo also earned a top 20 finish after shooting 97 and coming in a tie forth 18th after completing the tournament with a score of 260. Hannah Purdy rounded out the Regals playing in the starting five, shooting 91 on Friday to give her a three-round total of 268.
Playing as an individual, Devon Meredith managed a 91 during the final round to give her a total of 265, which was good for 21st.
Dalton Meade of Redlands won the individual championship after beating Claremont-Mudd-Scripps' Shaina Raskin and Occidental's Katie Park by one stroke.
Cal Lutheran now awaits its potential selection to the NCAA Division III Golf Championships May 13-16 at the Mission Inn in Howley-in-the-Hills, Fla.
Results: CLU- 3rd -1,025
CLU Twitter: https://twitter.com/clusports
Follow McKay: @CLU_Golfand Barret: @CLU_Golf
Facebook: https://www.facebook.com/clusports
CLU Instagram: http://instagram.com/clusports#