Kingsmen Take Fourth at SCIAC Championships
CLU finishes fourth for second year in a row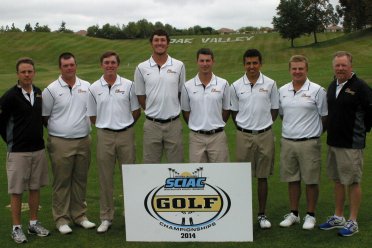 BEAUMONT, Calif. – With the wind gusting up to 30 miles per hour, the blustery conditions made for tough scoring during the final round of the Southern California Intercollegiate Athletic Conference (SCIAC) Championships Tuesday at Oak Valley Golf Club as Cal Lutheran shot 321 as a team and settled for fourth place. For the tournament, Cal Lutheran shot 931, 28 strokes behind conference champion Claremont-Mudd-Scripps.
With the wind whipping at times, only eight golfers were able to break 80 on the day. Mikey McGinn was the lone Kingsmen in the 70s Tuesday as he shot a 7-over 79. McGinn finished with a three-day total of 224 which was good for fourth place.
Barret McGinnis and Nate Gray each shot 80 and completed their tournaments in a score of 234. For McGinnis, it was his second consecutive top 15 finish at the SCIAC Championships. After a second round 74, Alex Hird closed with an 83 to finish with a total score of 239, putting him in 18th place.
Rounding out the Kingsmen at the conference championship was Austin Martinez who shot 87 on Tuesday to give him a three-round total of 249. Playing as an individual, Julius Lorentzen carded an 88 during the final round. The freshman finished his first ever SCIAC Championships with a total score of 265.
With its team championship Friday, Claremont-Mudd-Scripps snaps La Verne's title streak at seven. The Stags shot 321 as a team to win with a three-day total of 903. Reigning NCAA Division III Individual and SCIAC Champion Brad Shigezawa repeated as the event winner, shooting 75 on Tuesday to win by 10 strokes.
Redlands finished second as a team, shooting a final round 907. La Verne took third after shooting 327 and carding a three-round total of 911.
Cal Lutheran now awaits its potential selection to the NCAA Division III Golf Championships May 13-16 at the Grandover Resort in Greensboro, N.C.
Results: CLU – 4th - 321
CLU Twitter: https://twitter.com/clusports
Follow McKay: @CLU_Golfand Barret: @CLU_Golf
Facebook: https://www.facebook.com/clusports
CLU Instagram: http://instagram.com/clusports#