Kingsmen Relays Win at SCIAC No. 3
CLU finishes 2-1 on day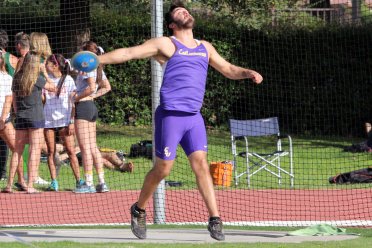 PASADENA, Calif. – In the final Southern California Intercollegiate Athletic Conference (SCIAC) Multi-Dual meet of the season the Cal Lutheran men's track and field team earned a pair of victories over Caltech (124-33) and Pomona-Pitzer (96-58) while being narrowly edged by La Verne (83-76).
The quartet of Conor Finfrock, Chu Oguejiofor, Tristan Baer and Dan Miller combined to win both the 4x100m and 4x400m Relays today against the Beavers, Leopards and Sagehens. In the shorter event the group clocked a 41.84 to improve to 8th all-time on the CLU Top-10 list while they won the longer relay with a time of 3:20.28.
Individually, Finfrock also ran a personal best 100m dash time of 10.99, breaking the 11-second barrier for the first time, and is just a tenth of a second off breaking into the top times in Cal Lutheran history. Oguejiofor and Miller went 2-3 in the 400m with times of 49.41 and 50.00, respectively. Oguejiofor also placed second in the 200m with a 22.07.
Senior hurdler Erik Fruth won the 110m Hurdles in 15.26, followed by freshman teammate Tyler Erickson (16.06). Fruth was then three hundredths of a second off breaking into the CLU Top-10 in the 400m Hurdles after clocking a 55.48.
Also earning points for the Kingsmen on the track was Dominic Allen who led the 800m for much of the race before placing third in 1:56.96.
The throwers again contributed a significant amount of points for Cal Lutheran today. Michael Bassett won the Shot Put with a mark of 14.79m and Bjorn McMillan threw the Hammer the furthest of all student-athletes with a throw of 45.92m.
Additionally, McMillan was second in the Javelin with a first-throw of 56.98m. William Zimmerle placed second in the Discus Throw with a 41.88m, followed by James Laughlin with a mark of 40.69. Laughlin also placed second in the Shot Put (13.31m) and third in the Hammer (43.98m) for the Violet and Gold.
At the High Jump pit, Drew Engler cleared 1.85m to place second and Giovanni Florenca was third after successfully leaping 1.75m.
Cal Lutheran will be off for the next two weeks preparing for the SCIAC Championships on Friday and Saturday, May 2-3, which will be held at Occidental. Events are set to begin at 12:00 p.m. on Friday.
Results: CLU 124, CIT 33
Results: LV 83, CLU 76
Results: CLU 96, PP 58
CLU Twitter: https://twitter.com/clusports
Follow Amanda: @RegalsTrack
CLU Facebook: https://www.facebook.com/clusports
CLU Instagram: http://instagram.com/clusports#