Regals Finish Dual Schedule Undefeated
CLU dominates at SCIAC No. 3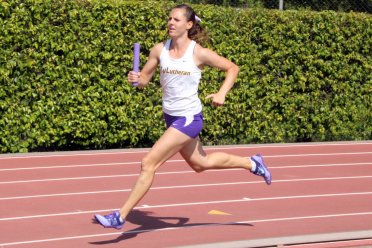 PASADENA, Calif. – Personal best times continued to fall for the Cal Lutheran women's track and field team as the Regals concluded the dual portion of their Southern California Intercollegiate Athletic Conference (SCIAC) season undefeated at 8-0 by earning victories over Caltech, La Verne and Pomona-Pitzer today at the SCIAC No. 3 hosted by the Beavers.
With three multi-event winners and numerous top-three finishes, CLU seemingly cruised to the wins over CIT (153-8), LV (92-71) and PP (125-38) as a trio of Regals won two events apiece today.
After taking the title in the 400m Hurdles by two seconds in 1:04.69, just off her Cal Lutheran record, Amanda Hamilton got the crowd excited as the final competitor of the afternoon. On her last Triple Jump, she would surpass her own CLU record, personal best and national lead with a mark of 11.92m.
A five-event day from Lauren Rohach produced a pair of top finishes in the 200m (25.59) and 400m (58.63) as the only runner to break the minute mark. She also competed in the Long Jump, finishing third with a best-jump of 5.30m behind teammate Kendall Sauter (5.35m) and on both the 4x100m and 4x400m Relays.
Melissa Skiba was staged to pull triple duty, but with the lead so significant she was not called upon to run the 5,000m race, which teammates Taelor Young (19:34.27), Sarah Parsons (19:51.99) and Kendahl Waalk (20:11.88) went on to sweep, crossing the line 1-2-3.
After setting a new SCIAC record a week ago, Skiba continued her winning streak in the 1,500m, again pulling away from the field with 200 meters to go as she finished in 4:35.53. She went on to win the 800m in 2:18.76 in her first collegiate appearance in the event, breaking into the CLU Top-10 as now the 7th fastest 800m time.
Also winning on the track today was senior Natalie Bullock who paced the 3,000m Steeplechase field in 12:13.49.
In the field, on a day when Brianna Panapa scored in all four throwing events, she won the Shot Put with a throw of 12.17m to improve her CLU Top-10 mark and sophomore Allie Hadley earned the top spot in the Javelin Throw with a best-mark of 45.60m. Panapa also improved on Hammer Throw to 49.76m, which is second all-time for the Regals.
The 4x100m Relay Team of Sauter, Rohach, Hamilton and Galipeau broke the 48-second mark for the first time this season, going a 47.98 for second as they were slightly edged by La Verne.
Another notable performance today came from Daniela Sullivan who broke into the CLU Top-10 in the 400m with a time of 1:00.44, which is a tie for 9th.
Mary Case competed in three events, placing fourth or higher in each and led the Violet and Gold to a 2-3-4 finish in the Pole Vault by clearing 3.20m. Emily Ginter (3.05m) and Sheyenne Machida (2.75m) were second and third, respectively.
Cal Lutheran will be off for the next two weeks preparing for the SCIAC Championships on Friday and Saturday, May 2-3, which will be held at Occidental. Events are set to begin at 12:00 p.m. on Friday.
Results: CLU 153, CIT 8
Results: CLU 92, LV 71
Results: CLU 125, PP 38
CLU Twitter: https://twitter.com/clusports
Follow Amanda: @RegalsTrack
CLU Facebook: https://www.facebook.com/clusports
CLU Instagram: http://instagram.com/clusports#