Regals Swept by Whittier, Eliminated from SCIAC Post Season
CLU falls 3-0, 12-2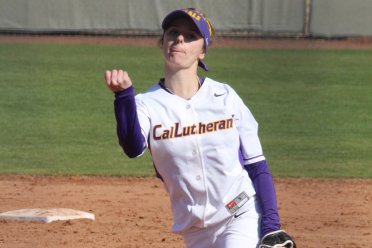 WHITTIER, Calif. – Blake Lewis had three hits including a double and Shonna Christianson pitched a complete game, striking out three but it wasn't enough as Cal Lutheran fell 3-0 and 12-2 in a doubleheader against Whittier Saturday afternoon. Though CLU has one more Southern California Intercollegiate Athletic Conference (SCIAC) series next weekend, the Regals were knocked out of SCIAC Post Season play contention as their record fell 13-13 against league foes while Whittier improved to 16-12.
In game one, Cal Lutheran had a chance to get a run on the board in the top of the first when Lewis doubled with two outs but Whittier starting pitcher Mercedes Del Real was able to strand the runner at second by getting an inning-ending strike out.
The Poets wasted little time grabbing the lead as Alexandra Flores doubled to lead off the game and then was brought in on another double from Samantha Mellano.
Christianson (5-3), CLU's starter in game one, would settle in though retiring the side in order the following inning.
Kayla Sakamoto reached on an error to lead off the top of the fourth but Del Real induced a rally-killing 6-4-3 double play.
Despite Christianson's strong effort in the circle, Whittier pushed across runs in the fourth and fifth inning to seal the win.
Christianson also helped her cause at the plate, leading the Regals with two hits. Danika Green and Liz Mertel had the other hits for the Regals in game one.
Del Real (15-10) picked up the win for the Poets, pitching seven shut-out innings while striking out three.
Mellano led the Poets at the plate, going 2-for-2 with two RBIs.
In game two, Cal Lutheran raced out to a 2-0 lead after the top of the second inning. Katelyn Downing walked to lead off the game and following a sacrifice bunt from Sakamoto, Lewis and Stephanie Martello had back-to-back singles to bring in the game's first run.
Courtney Sooy, CLU's game two starter, gave up a lead-off single to Flores but catcher Taylor Beacham caught her stealing a strong throw down to second.
The Regals then took a 2-0 lead when Sooy singled and later scored on a Downing base hit.
Unfortunately, that would be the last of the Regals offense as Whittier starting pitcher Samantha Blum would settle in and not allow a run over the next four innings.
The Poets scored three runs in the bottom of the second and five more in the third to put the game out of reach.
Lewis and Martello both had two hits in game two while Andrea Brackpool had the other hit for the Regals.
Cal Lutheran (19-17, 13-13 SCIAC) will finish its 2014 season on Saturday, April 26, by hosting a doubleheader against Chapman. The Regals will honor its five seniors before the game.
Game 1 Box Score: WC 3 CLU 0
Game 2 Box Score: WC 12 CLU 2
CLU Twitter: https://twitter.com/clusports
Follow Taylor: @CLUSoftball
CLU Facebook: https://www.facebook.com/clusports
CLU Instagram: http://instagram.com/clusports#