Kingsmen Blank Beavers
CLU defeats CIT 9-0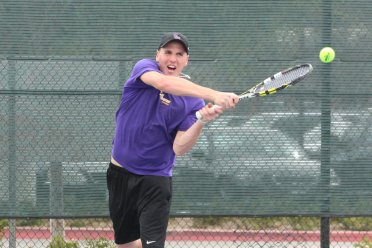 THOUSAND OAKS, Calif. – Playing under the lights at home for the first time this season, Cal Lutheran earned its first clean sweep victory of 2014, defeating Caltech 9-0 in Southern California Intercollegiate Athletic Conference (SCIAC) action Friday evening. With the win, Cal Lutheran wrapped up its SCIAC regular season schedule as winners in four of its last five.
All three of CLU's doubles team beat Caltech by a score of 8-5. In the No. 1 pairing, Alex Nichols and Connor Treacy took down Ruthwick and Sathwick Pathireddy while CLU's No. 2 duo of Moises Cardenas and Fergus Scott topped Luka Mernik and Devashish Joshi. Ian Slater and Jesse Knight got CLU its third point by beating Rushikesh Joshi and Morgan Lebby.
As the match transitioned to singles, Cal Lutheran's dominance did as well. Cardenas improved his SCIAC No. 1 singles record to 6-1 when he defeated D. Joshi 6-0, 6-1. Nichols took the No. 2 game against R. Pathireddy 6-2, 6-1 and Treacy sealed the win with a 6-3, 6-0 victory over S. Pathireddy.
Sean Handley got CLU to six points with a 6-4, 6-2 victory over R. Joshi in the No. 4 match while Slater improved his SCIAC record to 5-2 in the No. 5 slot with a 6-2, 6-1 win over Lebby. Scott gave CLU its ninth point for the first time this season after winning against Mernik in three sets, 6-1, 6-7, 10-2.
Cal Lutheran (7-9, 5-2 SCIAC) will be back in action April 25-27 when it travels west to take part in the Ojai Tournament.
Box Score: CLU 9 CIT 0
CLU Twitter: https://twitter.com/clusports
CLU Facebook: https://www.facebook.com/clusports
CLU Instagram: http://instagram.com/clusports