Kingsmen Open Rhodes Invite in Second
CLU begins final non-conference tournament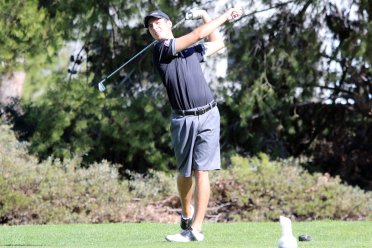 MILLINGTON, Tenn. – On the first day of the Rhodes Invitational at the Mirimichi Country Club the Cal Lutheran men's golf team sits one stroke off the lead with a team total of 308 (+20) on the par-72 course.
Leading the way for the Kingsmen were Mikey McGinn and Barret McGinnis with a 74 (+2) and 75 (+3), respectively, after 18 holes. McGinn was the epitome of consistent, shooting equal 37s on the front and back nine to place second in the round that included three birdies. McGinnis used 37 strokes over the first nine holes and came back in 38 with four birdies to tie for third.
With a 77, Nate Gray contributed the fourth CLU score by recording 12 pars and Okkar Oo rounded out the scoring players with an 84.
Also competing for the Violet and Gold today was Alex Hird who scored an 84.
Washington & Lee holds the top spot with a 307 and Cal Lutheran is followed by Spalding (312), host Rhodes (312), Texas Lutheran (317), Central Baptist (319), Webster (321), Mississippi College (327), Millsaps (328) and Hendrix (340).
The individual leader is Hunter Gauntlett from Mississippi College with a one-over 73.
Cal Lutheran returns to the tees tomorrow, Monday, April 14 at 8:00 a.m. for the second and final round of action.
Results: CLU 2nd – 308 (+20)
CLU Twitter: https://twitter.com/clusports
Follow McKay: @CLU_Golfand Barret: @CLU_Golf
Facebook: https://www.facebook.com/clusports
CLU Instagram: http://instagram.com/clusports#