D-III Week Feature: Kendall Sauter
Senior makes most of what CLU has to offer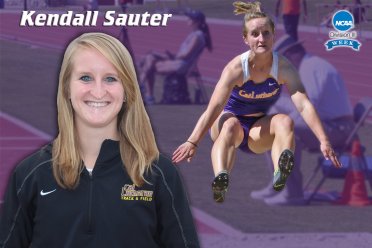 THOUSAND OAKS, Calif. – To say that Kendall Sauter has impacted the success of the Cal Lutheran women's track and field team would be an understatement. In four years she has plastered the CLU Top-10 lists with her name, which appears in the books nine times with two school records, but it was the opportunity for an overall experience that drew her to Thousand Oaks.
"I chose Cal Lutheran for a few different reasons," she shared, "The most important factors were that CLU offers exercise science as a major and the sports are DIII. I also received a Presidential Scholarship [one of the most exclusive and distinguished honors a graduating HS senior can receive from the US Department of Education] and the location was of interest to me because home is only an hour and a half north in Santa Ynez, Calif."
Sauter took advantage of all those factors and more. During her time at Cal Lutheran she has been involved in a number of clubs including Omicron Delta Kappa, the Exercise Science Club and the Line Dancing Club while being extremely active in the ever-competitive Intramural Sports program.
Additionally, she was able to study abroad at Southern Cross University in Lismore, Australia in the Summer/Fall of 2012, which aided in her desire to travel as she went to Sydney, Fraser Island and the Great Barrier Reef where she snorkeled and went skydiving in Cairns, saying, "It was unreal!" The entire experience was a life changing one.
Something else incredible has been her success in the classroom, which has been rewarded with three CLU scholar-athlete society inductions and a pair of SCIAC All-Academic awards as she will become a four and three-time recipient, respectively, before she graduates. Sauter has also earned a spot on the Dean's List every semester.
As an exercise science major with an emphasis in health professions, Sauter gained valuable hands on experience by working as a lab assistant in the exercise science department, which will be instrumental in her professional career as she has aspirations of conducting biomechanics research.
Biomechanics is something she is very familiar with as a multi-event athlete for the Regals track and field team, something else she is passionate about.
"I look forward to track season with growing anticipation each year," she went on, "It is by far my favorite time of the year. Playing a sport has created a busy life for the past four years, but I do best when I have a packed schedule. It forces me to get assignments done early and to stay on top of my studies."
Sauter has played a huge role in the relays as she has run on six of the Top-10 4x100m Relay teams in Cal Lutheran history. It was the quartet of Sauter, Lauren Rohach, Amanda Hamilton and Amy Galipeau who ran a time of 47.83 in 2013 to earn the school record. This spring in a rare 4x200m Relay she ran with the same group to set a top school mark of 1:45.66.
Individually, Sauter is 10th all-time at CLU in the 100m with a low time of 12.64 and she has run the 200m regularly as well. At the Long Jump pit, she is second to classmate Rohach with a career-best mark of 5.60m that she achieved last spring.
Sauter is currently a seven-time All-SCIAC recipient, placing in the Long Jump three times, the 4x100m Relay three times, with two league titles, and the 100m dash once while also becoming a 2013 NCAA Division III Women's Track and Field National Championships qualifier in the LJ where she placed 11th in the country.
The majority of her college memories have been created as part of the team, saying, "I really could not imagine attending school without also playing a sport. As cliché as it is, the track and field team has become my family."
With the season still underway, Sauter will have an opportunity to add to her accolades at both the SCIAC Championships in early May and at the NCAA Championships at the end of the month in Delaware, Ohio.
"My experience as a Division III student-athlete has been unimaginably awesome," she concluded.
During the course of Division III Week, a series of feature stories on student-athletes will be released at www.clusports.com.
CLU Twitter: https://twitter.com/clusports
CLU Facebook: https://www.facebook.com/clusports
CLU Instagram: http://instagram.com/clusports#
Division III Twitter: https://twitter.com/NCAADIII
Division III Facebook: https://www.facebook.com/NCAADivisionIII
Division III Week: https://www.facebook.com/hashtag/d3week