Kingsmen Fend Off Banana Slugs
CLU wins 5-4 against UC Santa Cruz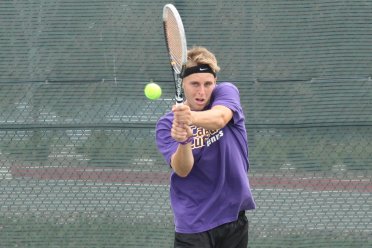 SANTA BARBARA, Calif. – The Cal Lutheran men's tennis team earned its first one-point win of the season after it defeated No. 21 UC Santa Cruz 5-4 in a match that was played at Westmont College Sunday. Coming into the match, Cal Lutheran had lost both games decided by one but the Kingsmen were able to pull out their second straight victory over the Banana Slugs.
The match began with three doubles matches that were all closely-contested. Eli Scandalis and George Goetz just hung on against CLU's No. 1 duo of Alex Nichols and Connor Treacy, winning 8-6.
It would take a tie-breaking set in the No. 2 doubles match but CLU's Moises Cardenas and Fergus Scott came out on top with a 9-7 victory over Max Littlejohn and Kyle Richter.
The Kingsmen would gain the upper hand headed into singles play when Ian Slater and Jesse Knight got past Garrett Deguchi and Chetan Munagala 8-6 in the No. 3 doubles match.
In the No. 1 singles match, Cardenas improved his season record to 12-3 when he blanked Scandalis 6-0, 6-0.
Cal Lutheran would fall in the No. 2, 4 and 6 singles matches to take the lead at 4-3 but Treacy and Slater would post impressive wins to secure the victory. Slater got things going when he defeated James Soper 6-3, 7-6. Following Slater's victory, Treacy won the first set of the No. 3 match 6-4 but then suffered a 6-1 setback in the second. Needing a tie-break set win to keep CLU's hopes alive, Treacy rallied with a 6-3 victory and clinched the match for the Kingsmen.
Cal Lutheran (6-9) will close out its Southern California Intercollegiate Athletic Conference (SCIAC) schedule when it hosts Caltech on Friday, April 18. The match the is set to get under way at 2:00 p.m.
Box Score: CLU 5 UCSC 4
CLU Twitter: https://twitter.com/clusports
CLU Facebook: https://www.facebook.com/clusports
CLU Instagram: http://instagram.com/clusports