D-III Week Feature: Michael Palmer
Hawaiian makes CLU home, continues hoops career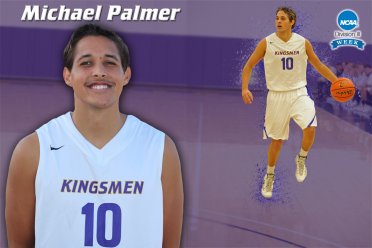 THOUSAND OAKS, Calif. – An ocean away from his family and where he grew up in Pukalani, Hawaii, Michael Palmer used basketball as a means to feel right at home at Cal Lutheran.
He chose CLU because of the small student body size and overall atmosphere of the school that would allow him to complete a challenging major with a minor while also continuing to play basketball and involving himself in clubs on campus.
"Playing Division III sports allowed me to further pursue my passion of sports while still being able to develop as a student in the classroom," he shared.
The bioengineering major with a minor in mathematics will be applying to graduate school for mechanical engineering within the year, but before he does that he will finish out his college days by taking a few minutes to reflect on his decision to play at the Division III level.
"Being a student-athlete has been extremely rewarding," he went on, "Though it is a time commitment, the friendships and memories made while playing sports will be everlasting."
A four-year letter-winner for the Kingsmen, Palmer earned his way into the starting lineup as a senior guard and posted career bests in nearly all categories during the 2013-14 season.
When Palmer is not in the classroom or on the court he has been involved with the Hawaii Club, keeping his native home close from miles away. He served for two years as the Vice President and was the Treasurer for the organization as well.
During the course of Division III Week, a series of feature stories on student-athletes will be released at www.clusports.com.
CLU Twitter: https://twitter.com/clusports
CLU Facebook: https://www.facebook.com/clusports
CLU Instagram: http://instagram.com/clusports#
Division III Twitter: https://twitter.com/NCAADIII
Division III Facebook: https://www.facebook.com/NCAADivisionIII
Division III Week: https://www.facebook.com/hashtag/d3week