Oguejiofor Earns CLU Top-10 Time
CLU competes at PP Invitational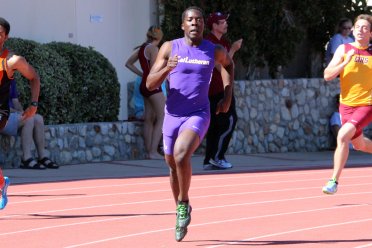 CLAREMONT, Calif. – At the 2014 Pomona-Pitzer Invitational Chu Oguejiofor became the 10th fastest 200m runner in Cal Lutheran history as the Kingsmen faced a tough field of competitors from every level, including professionals, Division I, II and III, NAIA, Independent and US Paralympians.
Oguejiofor set a new personal best with a time of 22-flat to earn his way into the CLU Top-10 by a hundredth of a second.
Also representing the Violet and Gold today was a large group of sprinters, some middle-distance runners, a few jumpers and a strong core of throwers.
Cal Lutheran returns to SCIAC competition next weekend with the final Multi-Dual meet of the season. The Regals will travel to Caltech where they will face off with CIT, La Verne and Pomona-Pitzer.
Results: PP Invitational
CLU Twitter: https://twitter.com/clusports
Follow Amanda: @RegalsTrack
CLU Facebook: https://www.facebook.com/clusports
CLU Instagram: http://instagram.com/clusports#