Poets Power Past Kingsmen
CLU drops series opener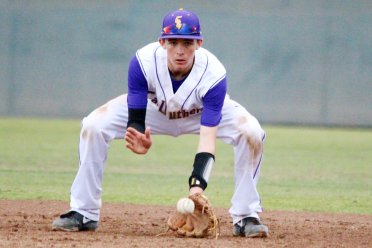 WHITTIER, Calif. – For the first time in 2014 the No. 4 Cal Lutheran baseball team suffered back-to-back losses, today dropping a 4-2 decision against Southern California Intercollegiate Athletic Conference (SCIAC) foe Whittier on the road in a battle between the top two teams in the league.
While CLU outhit WC 10-7 with Ramsey Abushahla, Justin Caña and Davey Casciola collecting two apiece, the Kingsmen were unable to string together timely hits as they stranded eight base runners with four in scoring position. CLU also played errorless baseball today.
The first two outs of the game for CLU came by way of a 6-4-3 double play. Later in the inning DuBois and Kay teamed up to catch a runner trying to steal for the final out of the inning, though Whittier took an early 1-0 lead.
Starting pitcher Jake Petersen faced just two batters over the minimum during the next four frames, but a two-run homerun from Ben Cerami in the sixth pushed the WC advantage to 3-0.
The Kingsmen came back with a pair in the top of the seventh. Casciolaand Nick Cohan gathered back-to-back singles to start the frame and moved up 90 feet on a sacrifice bunt from Austin Kay. Spencer DuBois drove in Casciola with the first run of the game for the Violet and Gold as he reached on a Whittier error. Cañasingled to plate Cohan with the second and final run of the game for the Kingsmen.
Whittier (19-10, 15-4 SCIAC) would tack on a fourth run in the eighth on a solo homerun from Julian Barzilli, who also scored the first run of the day. Cerami drove in three of the four WC runs of the game as each had two hits. Nick Garcia (5-4) earned the win after a 7.1 inning outing and Cerami wrapped up the game, earning his sixth save of the season.
Petersen (5-2) struck out six in a complete, 8.0 inning, game though he was defeated for the second time of the spring.
Cal Lutheran (22-7, 14-5) and Whittier will close out their series tomorrow, Saturday, April 12 with a pair set to begin at 11:00 a.m. Prior to first pitch the senior class of five will be recognized.
Box Score: WC 4, CLU 2
CLU Twitter: https://twitter.com/clusports
Follow Nicho: @CLUBaseball
Facebook: https://www.facebook.com/clusports
CLU Instagram: http://instagram.com/clusports#