D-III Week Feature: Allie Eason
CLU sophomore learns life lessons on court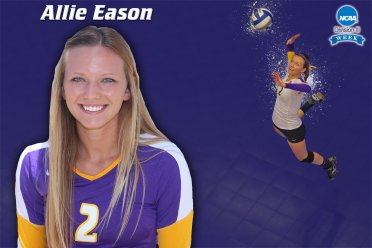 THOUSAND OAKS, Calif. – Cal Lutheran fit the mold for all of the most important areas that Allie Eason was looking for in a college. The sophomore has surely embraced the university, making a name for herself in two seasons of volleyball for the Regals by excelling on the court while also getting the well-rounded experience she wanted.
"I chose Cal Lu because of how competitive the volleyball program is, the small class sizes and the overall feel of the school," she shared, "I could always picture myself being here and I liked that I would be able to get the support I needed."
Everyone is happy about how the image turned out as her numbers have spoken for themselves on the volleyball court where she was named the Southern California Intercollegiate Athletic Conference (SCIAC) Newcomer of the Year in 2012 to go along with a Second Team All-SCIAC selection and in the Fall of 2013 raked in American Volleyball Coaches Association (AVCA) First Team All-America, AVCA First Team All-West Region and First Team All-SCIAC honors while being named to the NCAA Division III All-Tournament team after leading the Regals to a national runner-up finish.
Eason has etched her name into the CLU record books for kills and digs in a single-season, with 377 for eighth and 418 for sixth, respectively. At the rate she is tallying high figures her name will appear in the career charts before she graduates.
When asked why she chose Division III she shared, "Division III is a special level because you get to play for the sole reason of loving the game. You learn that if you want to be successful you have to be self-motivating and willing to sacrifice time on your own since it isn't always going to be required of you by someone else," Eason went on, "With Division III you'll always get the balance between athletics and academics that you need so that you can succeed in both while still having time to be involved with other things like clubs, jobs, or internships."
She knew that playing volleyball at Cal Lutheran was not going to be an easy task with a rigorous training schedule and tough academic course load, but she would not have it any other way.
"Competing in college has been a really rewarding and fulfilling experience because I get to represent my school while doing what I love with teammates, coaches, and faculty who inspire me to be passionate and work hard," Eason went on, "It isn't always fun and pleasant, but that has taught me about how much I can take and how to keep pushing myself when I'm not comfortable."
Eason has learned lessons through sports that she applied to everyday life.
"Being a student-athlete has taught me a lot about dedication and responsibility and it's taught me how important it is to always push yourself to work harder and be better, not just in athletics but in every aspect of your life."
Her primary focus at CLU is academics. Majoring in psychology with an emphasis in health and wellness Eason has career aspirations of continuing to research or working with children in counseling.
At Cal Lutheran she has already been able to jump start her professional career track of working with kids through volleyball by coaching at a variety of levels, including a Cal Lutheran summer camp in 2013 along with other camp programs and at the Rincon VBC in Ventura with you teens ages 13 and 15.
Last summer was also a special one as she became a Cal Lutheran ambassador for Team IMPACT, mentoring Trinity Tucker, a 10-year-old cancer survivor.
When she is not on the court or in the classroom she has worked in the Gilbert Sports and Fitness Center and enjoys giving back by teaching the game she loves to the next generation.
During the course of Division III Week, a series of feature stories on student-athletes will be released at www.clusports.com.
CLU Twitter: https://twitter.com/clusports
CLU Facebook: https://www.facebook.com/clusports
CLU Instagram: http://instagram.com/clusports#
Division III Twitter: https://twitter.com/NCAADIII
Division III Facebook: https://www.facebook.com/NCAADivisionIII
Division III Week: https://www.facebook.com/hashtag/d3week