Panthers Too Much for Regals
CLU dropped by CU 6-3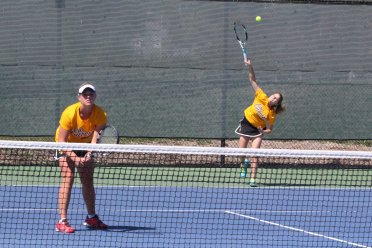 THOUSAND OAKS, Calif. – Playing in front of its biggest crowd of the season, the Cal Lutheran women's tennis team hung tough with fellow Southern California Intercollegiate Athletic Conference (SCIAC) foe Chapman but couldn't quite find the winning points and fell 6-3 Friday afternoon.
It looked as though Cal Lutheran would have a shot at earning its second conference win of the year when its No. 2 doubles pairing of Lindsay Murphy and Dana Raugust defeated Madison Mathis and Madeline Saunders 8-4 to begin the match. Unfortunately for the Regals, Shelby Kubota and Daria Karakoulka fell 8-3 in the No. 1 doubles and Rebecca Gold and Kari Ayres lost the No. 3 matchup 8-0.
As the match transitioned to singles, Gold got CLU going as she rallied for a three-set win in the No. 3 pairing. The freshman dropped the first set 6-4 before storming back to win the second 6-1. She then won the back-and-forth third set tie-breaker 10-7 and got CLU its second point of the day.
Kubota kept things going in the No. 4 match when she made quick work of Anna Nelson, winning 6-3, 6-2.
Murphy nearly got CLU its fourth point of the match when she won the opening set of the No. 1 pairing 6-4 against Andrea Hammer. Despite the strong first set from Murphy, Hammer would rally back and win the next set 6-2 and force the third set tie-breaker. Murphy gained the lead twice but would eventually fall late and Hammer took the final set 10-8.
Chapman would go on to sweep the No. 2, 5 and 6 matchups to lock up its 11th win of the season.
Cal Lutheran (3-10, 1-5 SCIAC) will have a chance to get into the win column on Saturday, April 12, when it takes on Pomona-Pitzer. The match at Poulson Tennis Center is set for 10:00 a.m.
Box Score: CU 6 CLU 3
CLU Twitter: https://twitter.com/clusports
CLU Facebook: https://www.facebook.com/clusports
CLU Instagram: http://instagram.com/clusports#