Water Polo Faces Tough Teams
CLU competes with Division I opponents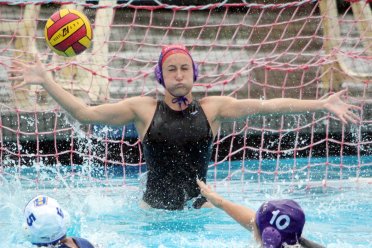 THOUSAND OAKS, Calif. – Day two of the Seventh Annual Cal Lutheran Invitational featured 17 of 34 games this weekend with Cal Lutheran playing in another pair at the Samuelson Aquatics Center while contests also took place inside of the Sotelo Aquatics Center at Oaks Christian High School.
In the first game of the day CLU faced off with CSU Bakersfield, giving the Roadrunners a run for their money, despite falling 12-8 in the end. The Regals trailed 2-1 after one period and 6-2 at the intermission, but netted three in each of the final two quarters, pulling within a pair in the second half of action.
Jordan Card and Kaylee Kastrup scored on back-to-back possessions to spark a run that ended with KC Brendel adding a goal to get the Violet and Gold to 7-5. The fourth frame saw scoring plays from Amanda Jones, who put also up the first crooked number of the day for the Regals, Adrienne Ingalla and Tatiana McCuaig.
Jones drew three ejections in the game and Card tallied two while Kastrup handed out two assists.
Goalie Gina Merry turned in a solid effort with 10 saves, three steals and a drawn ejection. A pair of field blocks came from Ingalla and Kastrup and Card shared the team-lead for steals with Merry.
The second game pitted the home squad against another tough Division I program in Long Beach State. After being shut out in the opening half, Jones and McCuaig broke through in the third and Ingalla netted two in the fourth to account for all of the CLU offense in the contest. Sarah Simpson provided a pair of assists against the 49ers. Brendel and Card tied for the team-led with three drawn ejections apiece while Kastrup chipped in with two.
Merry reached double figure saves for the second consecutive game to finish with 11 in the game and 21 on the day. With three steals, Ingalla paced the defense that also featured a field block from Brendel.
Cal Lutheran (1-5) plays at 8:00 a.m. for the third straight day, facing Sonoma State to kick off the final day of competition. The Regals will round out the tournament with the final game of the weekend as well, sprinting against Villanova at 4:45 p.m.
Box Score: CSUB 12, CLU 8
Box Score: LBSU 15, CLU 4
CLU Twitter: https://twitter.com/clusports
Follow Illissa: @regalspolo
Facebook: https://www.facebook.com/clusports
CLU Instagram: http://instagram.com/clusports#