Brem, Zielsdorf Complete NCAA Run
Diving duo has strong showing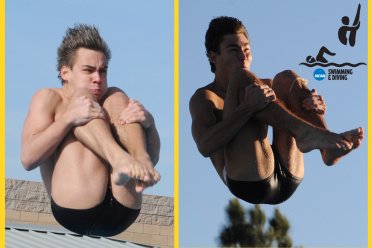 GRINNELL, Ia. – A dream of what is like to compete at the national level became a reality for the Cal Lutheran diving duo of Ryan Brem and Joey Zielsdorf who donned the Violet and Gold at the 2014 NCAA Division III Diving Regionals at Grinnell (Ia.) College this weekend.
A week removed from school record performances at the Southern California Intercollegiate Athletic Conference (SCIAC) Championships, the duo entered the weekend excited about being on a national stage, joined by Regals teammate Sheyenne Machida. Once the trio got some reps in on the boards they were all able to settle down and focus on the task at hand.
Among some of the best divers in the country, the CLU pair was surrounded by close foes with five SCIAC divers from three schools competing. Additionally, Brem was reunited with high school teammate Austin Howlett who represented Colorado College.
"It was really awesome to go to an entirely new place to dive, Brem continued, "There was a lot of good competition, but a lot of familiar faces, too."
In his first national meet, Zielsdorf surprised himself by finishing just 13 points away from advancing to the NCAA Division III Swimming & Diving National Championships in Indianapolis, Ind. from Mar. 19-22.
On day two, diving on the one-meter board, Zielsdorf recorded a 420.80 with the second highest score average at 6.24. Friday evening he tallied a 346.75 in three-meter competition, paced both days by his inward 1½ and inward dives.
About the meet he said, "I had a great time here at Regionals. I went into this meet completely for the experience and I wasn't really worried about how I would place." He added, "Coming so close to advancing to Nationals really shows me that I can push for that goal now, whereas before I thought it was a goal that I did not think I could achieve for some time."
The sights have always been at competing beyond the SCIAC, but this weekend made that picture even clearer.
"I will really be pushing myself to get better and work on some harder dives over the next couple of seasons," the sophomore shared.
He is not the only one already focused on the future.
Brem scored a 409.10 on Friday in the three-meter meet and followed with a 408.25 on his one-meter, 11-dive list.
As a junior this season, he has one more chance to return to Regionals and aim beyond that level, but knows that to get there he will have to put in the time and continue to work hard.
"My plan for senior year is to perfect what I have on three-meter and add difficulty to my one-meter list," Brem noted.
Running away with the automatic National qualifying spot on both the one-meter and three-meter boards was James Stevick from Claremont-Mudd-Scripps who scored a 489.50 and 512.80, respectively, winning each event by more than 50 points a week after shattering SCIAC, meet and CMS records. Also earning bids to NCAA Championships were Howlett and Daniel Goldstein from host Grinnell.
Both Cal Lutheran divers will return in 2014-15 for the Kingsmen.
NCAA Regionals: Day One – 3M Results
NCAA Regionals: Day Two – 1M Results
Meet Central: NCAA Division III Diving Regional
CLU Twitter: https://twitter.com/clusports
Follow Kelli: @kelli_clu_swim
CLU Facebook: https://www.facebook.com/clusports
CLU Instagram: http://instagram.com/clusports#