Kingsmen Earn Trip to Podium
Loza breaks school record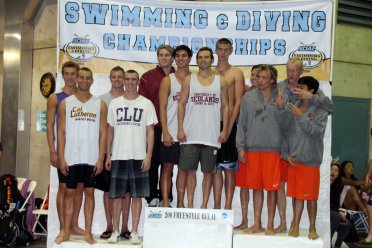 COMMERCE, Calif. – On the first full day at the 2014 Southern California Intercollegiate Athletic Conference (SCIAC) Swimming & Diving Championships at the Brenda Villa Aquatics Center, the Cal Lutheran Kingsmen earned a trip to the podium in the 200 Freestyle Relay while Zach Loza set a huge personal best, breaking the CLU record in the 500 free.
After swimming mostly sprint races, Loza opted to test his fate at a longer distance in early February and the training he has put in has clearly paid off as the freshman set a new PR by more than 16 seconds with a time of 4:43.16, lowering the Cal Lutheran time by nearly two full seconds.
The 200 Free Relay team of Chase Miller, Loza, David Sparks and Tyler Berg turned in a time of 1:25.38 to earn a third place finish as the lone top-three finish for CLU today.
In his final SCIAC Championships, Berg swam identical 21.61 times, a hundredth of a second off his PR, in the 50 free today during each session to earn 14th overall in an event that saw 68 men step on the blocks. Miller and Sparks also competed in the shortest event during his final league championship meet.
Derrick Graham was a consolation finalist in the 500 free, swimming a 4:52.96, lowering his personal best time.
Another senior in Michael Fernandez earned his way into the consolation final of the 200 Individual Medley, scoring 12th place points for the Kingsmen after touching the wall in 1:57.98, a season-best time.
Senior Anthony Nguyen was one spot out of advancing to the finals in the 200 IM and served as the first alternate with a morning time of 2:02.26. Freshman Patrick Gregory was not far behind in 2:03.89 followed by Zach Kaija in 2:05.29. Mason Hill swam the event in his final SCIAC Championships meet as well, clocking a 2:07.28.
Also competing for the Kingsmen today were Luis Burgos (50 free), Ethan Flyer (50 free), Andy Nguyen (200 IM), Mike Potter (500 free), Asante Sefa-Boakye (50 free), Aaron Waters (50 free) and Bryce Woodell (50 free).
The quartet of Waters, Ant. Nguyen, Fernandez and Loza teamed up to swim the 400 Medley Relay, the final event of the evening between the lanes, in 3:36.03, a season best time by more than nine seconds.
Earlier in the day the Cal Lutheran diving group of Ryan Brem, Kevin Schultz and Joey Zielsdorf competed for the Kingsmen in the one-meter diving preliminaries.
Zielsdorf and Bremscored 461.10 and 437.00, respectively, to not only break the 11-dive one-meter mark at CLU, but also to earn their way to NCAA Regionals, representing the first two Kingsmen to earn that honor. Zielsdorf was consistent as could be, not counting a score lower than 6.5 on his final five dives, which will carry over to finals. His best dive came in the second to last round on an inward dive piked that earned a 26.5. Brem used 26.0 on his front tucked 1 ½ to secure his third spot.
Schultz finished just out of finals contention with a combined 315.35 for 10th place.
For the first time in league history the teams were required to declare a team of 24 to compete in the championships. The scoring format was also modified with the top 18 performers scoring, which has boosted the overall scores of the meet.
Following the first full day of competition CLU sits in sixth place with a team total of 143 ahead of Occidental (102), Caltech (84) and Chapman (80). Leading the way is Claremont-Mudd-Scripps with 381. Second place belongs to Redlands (231.5) with Pomona-Pitzer (172.5) clinging to third. La Verne is in the fourth spot with a 167 and Whittier is just ahead of Cal Lutheran with a 148.
Day two of the 2014 SCIAC Swimming & Diving Championships will get underway at 9:00 a.m. on Saturday, Feb. 22 with preliminary swimming events. The men's one-meter diving finals will take place at roughly 8:30 p.m. following the completion of day two swimming final events that will get underway at 5:00 p.m.
Final Results: Day One Finals Results
Preliminary Results: Day One Preliminary Results
Preliminaries Diving Results: Men's one-meter Individual Results
Diving Standings: Men's one-meter Scores
SCIAC Championships: Caltech Meet Central
CLU Twitter: https://twitter.com/clusports
Follow Kelli: @kelli_clu_swim
CLU Facebook: https://www.facebook.com/clusports
CLU Instagram: http://instagram.com/clusports#