Regals Drop SCIAC Opener
CLU falls to La Verne 6-3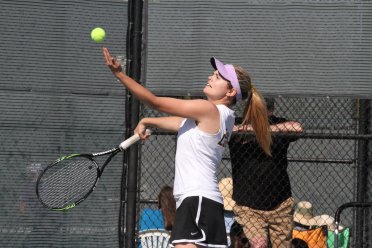 LA VERNE, Calif. – The Cal Lutheran women's tennis team held a 2-1 lead at the end of the doubles portion of the match but couldn't hold the lead and fell to La Verne 6-3 Friday afternoon.
CLU got off to a strong start as Rebecca Gold and Daria Karakoulka defeated Laura Matsuda and Jeanette Losaria after the La Verne duo had to retire due to injury. The Leopards took the No. 2 double match with Bridget Ecthegaray and Allison Moncrief against Dana Raugust and Shelby Kubota 8-4 but the Regals closed doubles with a 9-8 close-fought victory in the No. 3 match as Lindsay Murphy and Sarah Baker defeated Andrea Madrigal and Megan Soucy.
Unfortunately for the Regals, CLU couldn't continue its lead once the match shifted to singles. Madrigal beat Murphy in the No. 1 singles 6-0, 6-2 but Cal Lutheran got a point back as Losaria was unable to compete in the No. 2 match.
The Regals nearly got another singles point in the No. 3 match when Gold rebounded in the second set against L. Matsuda, winning 6-3 and forced a third set. However, L. Matsuda would close out the win, defeating Gold in the final set 6-0.
Raugust, Kubota and Baker would compete hard in the final three singles matches but ultimately fell, giving La Verne its fifth win of the year.
Cal Lutheran (1-3, 0-1 SCIAC) will be back in action on March 1, when it hosts Arizona Christian at 10:00 a.m.

Box Score: ULV 6 CLU 3
CLU Twitter: https://twitter.com/clusports
CLU Facebook: https://www.facebook.com/clusports
CLU Instagram: http://instagram.com/clusports#