Offensive Explosion Propels Kingsmen Past Pomona-Pitzer in SCIAC Opener
CLU opens SCIAC play with win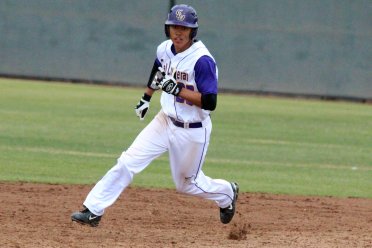 CLAREMOMNT, Calif. –In a game cut short due to darkness, an offensive explosion propelled the Cal Lutheran baseball team past Pomona-Pitzer in the Southern California Intercollegiate Athletic Conference (SCIAC) opener today on the road as the teams combined for 34 runs on 32 hits, including five homeruns, with six errors.
The CLU bats produced 21 hits, with seven players recording multi-hit games and everyone notching at least one base knock. Three players connected for homeruns today.
Trailing 6-3, CLU erased an early deficit by scoring four runs in the fourth inning, capped by a Nicho DellaValle round tripper. Though the Sagehens evened the tally in the bottom of the frame, a five-run top of the seventh aided by a two-run HR off the bat of Ramsey Abushahla gave the Violet and Gold the lead for good. The Kingsmen would send 13 men to the plate, scoring seven runs, four by way of a grand slam from leadoff man Justin Caña, in the top of the eighth, which was critical as the Hens came back for eight in the bottom of the inning before the game was called early.
DellaValle used a 4-for-6 day at the plate, which also included a double, to drive in two. He was one of a trio of Kingsmen to cross the plate three times. Cañafinished with a five-RBI game in his SCIAC debut while Abushahlawas responsible for driving in four on a 3-for-6 afternoon at the dish.
Jake Petersen (two doubles) and Davey Casciola collected three hits apiece with Casciola scoring three times. Petersen (2-0) also remained undefeated on the hill, striking out five over 7.0 innings of work.
Nick Driscoll made his first appearance for CLU today, tossing a third of an inning. Brady Mickelson and Aaron Roth also each threw a third of an inning, recording a strikeout.
Pomona-Pitzer (3-5, 2-2 SCIAC) got two hits apiece from Sam Fox, E.J. Lopez and Tanner Nishioka with the trio combining for five runs and nine RBIs. Nishioka led off the game with a homerun and Jackson Badger started the fourth off with one of his own. Simon Rosenbaum collected the only other extra-base hit of the game for the Sagehens with a double in the eighth. Jake Bruml (1-1) was tagged with the loss after striking out four over 6.0 innings today.
Cal Lutheran (2-1, 1-0 SCIAC) will host Pomona-Pitzer for a double header on Saturday, Feb. 22 with first pitch scheduled for 11:00 a.m. at George "Sparky" Anderson Field inside of Ullman Stadium.
Box Score: CLU 19, PP 15
CLU Twitter: https://twitter.com/clusports
Follow Nicho: @CLUBaseball
Facebook: https://www.facebook.com/clusports
CLU Instagram: http://instagram.com/clusports#