Kingsmen Fall at ITA Indoor Championships
Trinity defeats CLU 7-2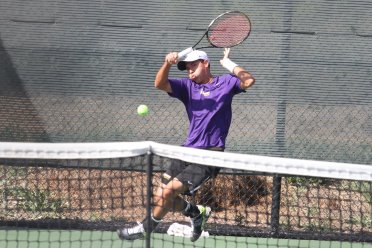 MAYFIELD VILLAGE, Ohio – The Cal Lutheran men's tennis team renewed its West Region rivalry with Trinity (Tex.) Friday afternoon in the first round of the Intercollegiate Tennis Association (ITA) National Indoor Championships hosted by Case Western University. Unfortunately for the No. 7 Kingsmen, No. 8 Trinity defeated CLU for the first time in three tries, winning 7-2.
Cal Lutheran got off to a slow start as the No. 3 doubles duo of Ian Slater and Jesse Knight fell in a tightly contested 8-4 match to Chas Mayer and Clayton Niess. The Tigers then gained its second team point when Greg Haugen and Jordan Mayer defeated Moises Cardenas and Fergus Scott in another close contest, winning 8-5 in No. 2 doubles.
Alex Nichols and Connor Treacy salvaged the doubles portion of the match when they won 9-8 in an exciting pairing with Paxton Deuel and Nicolas Moreno.
Nichols carried the momentum over into the No. 2 singles match where he took down Aaron Skinner 2-6, 6-4 and 1-0 in a tie-breaker.
CLU would hang tough with the Tigers as Slater lost a heartbreaker to Moreno, falling 7-6 and 7-6 in the No. 4 singles match.
Scott took Charlie Curtis to a seventh point in the No. 6 singles pairing but couldn't turn the tide as he fell 7-6, 6-3.
Cal Lutheran (1-2, 1-0 SCIAC) will find out its next opponent and the time of the match later in the evening.
Fans can check daily scores of the ITA Indoor National Championships at this link: ITA Indoor National Championship Tournament Central

Box Score: TU 7 CLU 2
CLU Twitter: https://twitter.com/clusports
CLU Facebook: https://www.facebook.com/clusports
CLU Instagram: http://instagram.com/clusports#