Divers Help CLU Defeat Caltech in Split
CLU splits in road tri-meet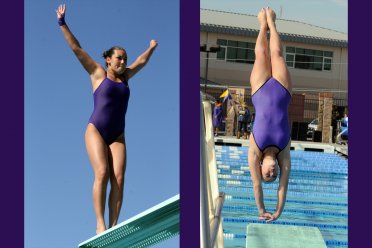 CLAREMONT, Calif. – On the road in a Southern California Intercollegiate Athletic Conference (SCIAC) tri-meet at Claremont-Mudd-Scripps the Cal Lutheran women's swimming and diving team defeated Caltech 180-49, though the Regals fell, 215-64, to the host Athenas at Axelrood Pool this afternoon.
Once again the CLU divers posted solid performances with freshman Tianna Pasko and senior Sheyenne Machida winning the one-meter and three-meter events, respectively, for the Violet and Gold today. Pasko scored a 210.20 as the only diver to surpass the 200-point plateau and edged Machida (199.72) on the lower board to win the first SCIAC event of her career.
For the second consecutive week Machida improved on her Cal Lutheran three-meter diving record, posting a meet-best 223.00 to win by 13 points.
Between the lanes no one won any events, but the Regals produced a number of strong swims to aid in downing the Beavers.
The 200 Medley Relay team of Shelby Brooks, Kelli Miller, Taylor Faust and Annika Stenfjord combined to hit the wall in 1:59.31 to get swimming underway. To close out the meet Juliana Rios, Stenfjord, Taylor Faust and Sarah Forsythe joined forces for a 1:43.14 effort in the 200 Free Relay.
Stenfjord went on to place third, just 2.52 seconds out of first, in the 200 Freestyle in a time of 2:02.35 and earned the same position in the 500 (5:26.74). Brooks was second to Courtney Chan (1:02.42) from CMS in the 100 Backstroke, swimming a 1:05.28. Miller also locked up a second place finish, going a 1:13.58 in the 100 Breaststroke.
Sprinting for the Regals, Forsythewas the third finisher in both the 50 free (25.98) and 100 free (57.26) and was followed by Faust(58.68) and Rios(59.57) as three of the five swimmers to break a minute in the 100. Rios also placed third in the 100 Butterfly with a time of 1:01.62.
Suiting up for the Violet and Gold for the first time this season was Danielle Warmuth who returned from studying abroad to compete on both the one-meter and three-meter diving boards.
Cal Lutheran (2-4 SCIAC) is on the road again next weekend as the Regals travel to Occidental for a dual meet with the Tigers set for Saturday, Feb. 1 at 10:30 a.m.
Results: CLU 180, CIT 49
Results: CMS 215, CLU 64
Scores: CIT_CLU_CMS – Scores only
CLU Twitter: https://twitter.com/clusports
Follow Kelli: @kelli_clu_swim
CLU Facebook: https://www.facebook.com/clusports