Regals Hang Tough against Athenas
CMS outlasts CLU 57-51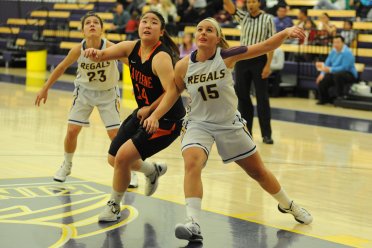 CLAREMONT, Calif. – Cal Lutheran went to toe-to-toe with Southern California Intercollegiate Athletic Conference (SCIAC) leading Claremont-Mudd-Scripps Thursday night as four different players scored at least eight points but the Regals couldn't come up with the baskets down the stretch, falling 57-51. The Regals actually had a higher field goal percentage (41 percent) than the Athenas (39 percent) and got a team-high 12 points from Chelsea Jacoby but CMS won the game on the boards, outrebounding CLU 39-29 including snaring 11 offensive rebounds to Cal Lutheran's three.
The Regals had two chances to make it one possession game in the final two minutes. The first play came with 2:01 left to go in the second half as Cal Lutheran trailed by just six at 50-44. The Regals defense pressured Madeline Barnes into taking an errant three-pointer but Mara Falahee was able to come up with a clutch offensive rebound and then was fouled by CLU. Falahee would sink both free-throws to put CMS back up by eight.
Jacoby would respond on the following possession, drawing a foul when she slashed to the hoop. She would sink both free-throws to make it 52-46 with 1:22 left to play. Following a timeout, Cal Lutheran fouled and sent Kimberly Scamman to the free-throw line. She would miss her first free-throw and numerous Regals had a chance at the rebound but Scamman came up with the ball. On the same possession Barnes took a jump shot only to be blocked by Jacoby but Kyra Ray corraled another pivotal offensive rebound and found Chloe Dobbert for an open lay-up with less than a minute to play.
Earlier in the second half, Cal Lutheran cut the lead to five at 45-40 when Keeley Anderson and Jessica Salottolo hit back-to-back jumpers. The Regals then forced a turnover on the Athenas' following possession but were unable to cut it to a one-possession game after Falahee came up with a steal on the defensive end for CMS.
Midway through the second half it looked as though CMS might pull away from CLU after Dobbert made a free-throw to put the Athenas up 40-27 with 14:53 left to play but the Regals would counter with a 9-0 run with Anderson, Jacoby, Salottolo and Haley Hodgson all scoring baskets. Trailing 40-36, Cal Lutheran again forced a CMS turnover only to see it squandered by a turnover of its own.
In addition to Jacoby's 12 points, Anderson was second with nine and Taylor Messick and Salottolo each had eight. Jacoby also led the way with nine rebounds while Messick hauled in seven of her own.
Dobbert came off the bench to lead CMS with 16 points.
With the win, CMS improves to 13-2 overall and 5-1 in the SCIAC.
Cal Lutheran (6-8, 2-4 SCIAC) suffers its first lost in four games and will look to rebound on Saturday, Jan. 18 against Redlands. Tip-off inside of Gilbert Arena is set for 7:00 p.m.
Box Score: CMS 57 CLU 51
CLU Twitter: https://twitter.com/clusports
Follow Natalie: @RegalsHoops
CLU Facebook: https://www.facebook.com/clusports