Kingsmen, Regals Announce 2014 Track & Field Schedule
CLU debuts 2014 schedule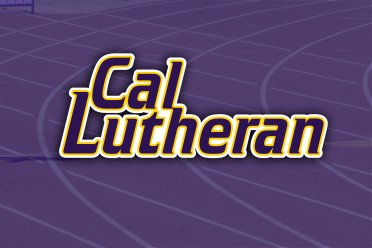 THOUSAND OAKS, Calif. – Cal Lutheran head coach Matt Lea unveiled the 2014 men's and women's track & field schedules earlier this week. The Kingsmen will look to improve upon a fourth place finish at the Southern California Intercollegiate Athletic Conference (SCIAC) Championships last season while the Regals are hoping for a second conference title in three years.
CLU opens its season on Saturday, Feb. 1 with a duel between NAIA member Westmont. Two weeks later, the Kingsmen and Regals will travel across Los Angeles to take part in the Pomona-Pitzer All-Comers meet in Claremont, Calif.
The following Saturday, the distance runners for Cal Lutheran will compete in the Rossi Relays also held in Claremont.
On Saturday, March 8, CLU opens its conference meet schedule when it takes part in the SCIAC Quad Meet No. 1, facing off against Claremont-Mudd-Scripps and Occidental.
Only six days later, Cal Lutheran will send competitors to three different meets. Some members of the team will travel to Lincoln, Neb. to take part in the NCAA Division III Indoor Track & Field Championships. The event will be held in the Bob Devaney Sports Center March 14-15. The CLU throwers will also be in action that Friday, participating in the Ben Brown Invitational. Finally, Cal Lutheran will take its distance runners to Los Angeles to complete in the Occidental Distance Carnival.
The Kingsmen and Regals will hit the road again the following week when it travels to the Point Loma Nazarene University Scoring Meet held in San Diego, Calif.
Cal Lutheran then resumes its conference schedule on March 29 with the SCIAC Quad Meet No. 2 which will be held in La Verne. The meet pits the Kingsmen and Regals against Chapman, Redlands and Whittier.
From April 4-5, CLU will take part in the Cal/Nevada Championships held in La Jolla, Calif.
The following weekend, Cal Lutheran will make its fourth trip of the season to Claremont when it heads east to run in the Pomona-Pitzer Invitational.
CLU has its final regular season conference meet of the season on April 19, taking on Caltech, La Verne and Pomona-Pitzer in the SCIAC Quad Meet No. 3 held in Pasadena, Calif.
From May 2-3, the Kingsmen and Regals will head to Occidental for the SCIAC Championships.
The following two weeks, Cal Lutheran will try to gain a few more national qualifiers first with the Occidental Invitational on May 10 and then at the Redlands Last Chance Qualifier May 15-16.
The NCAA Division III Outdoor Track & Field Championships will be held May 22-24 at George Gauthier Track in Delaware, Ohio on the campus of Ohio Wesleyan.
Schedule: 2014 Men's Track – 2014 Women's Track
CLU Twitter: https://twitter.com/clusports
CLU Facebook: https://www.facebook.com/clusports