Women's Tennis Unveils 2014 Schedule
CLU hosts nine home matches in 2014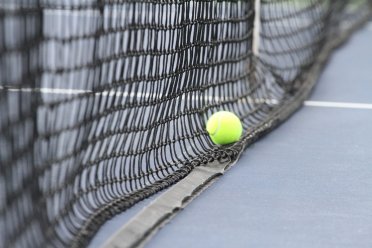 THOUSAND OAKS, Calif. – A challenging and exciting schedule awaits the Cal Lutheran women's tennis team in 2014 as it will play five different teams ranked in the Division III Intercollegiate Tennis Association (ITA) Preseason Top 30 Poll as well as several other competitive Division II and NAIA programs. Nine home matches at the Paulson Tennis Center and a road-trip to Arizona also highlight the Regals' schedule.
Cal Lutheran gets its season underway with a home-opener against NAIA member Westmont on Friday, Jan. 31, at 2:00 p.m. A week later, CLU goes on the road to take on another NAIA program in Biola. The match with the Eagles is slated for Feb. 7 at 3:00 p.m.
On Feb. 18, the Regals return home to take on Bates (Me.) at 3:00 p.m. In 2013, the Bobcats finished 7-11 overall and 3-6 in the New England Small College Athletic Conference (NESCAC), one of the most competitive leagues in Division III.
The following weekend, Cal Lutheran begins Southern California Intercollegiate Athletic Conference (SCIAC) play when it goes on the road to match up with La Verne.
CLU hosts home contests with Arizona Christian on March 1 and No. 23 Trinity (Tex.) before hitting the road for two matches in Arizona. On Saturday, March 15, the Regals play against Division II Colorado Mesa in the morning before facing Dixie State (Utah) in the afternoon. Both matches will be played on the campus of Mesa Community College.
On Monday, March 24, Cal Lutheran hosts non-conference foe Pacific Lutheran at 3:00 p.m. before resuming SCIAC play. The Regals then open a stretch of seven-straight conference matches starting with Occidental on Friday, March 28 in Eagle Rock. The next day, CLU returns home to play Whittier.
Cal Lutheran hosts 2013 NCAA Division III fourth place finisher Claremont-Mudd-Scripps on Friday, Apr. 4. The Regals will have a quick turnaround as they travel to No. 11 Redlands on Saturday, Apr. 5.
The final two home matches for Cal Lutheran take place on Friday, Apr. 11 and Saturday, Apr. 12 against Chapman and No. 10 Pomona-Pitzer, respectively.
The Regals close out their conference season with a match against Caltech on Friday, Apr. 18.
All SCIAC regular season contests will start at 2:00 p.m. on Fridays and 10:00 a.m. on Saturdays.
From April 25-27, CLU will travel to Ojai, Calif. to take part in the annual Ojai Tournament.
With nine teams competing in the conference, a Play-in game will take place on April 30 between the No. 8 and 9 teams to determine the final spot. The SCIAC Championships are slated to take place in Claremont on May 2-3, hosted by the Athenas.
Schedule: 2014 Women's Tennis
CLU Twitter: https://twitter.com/clusports
CLU Facebook: https://www.facebook.com/clusports