Regals Earn First Conference Win
CLU defeats Occidental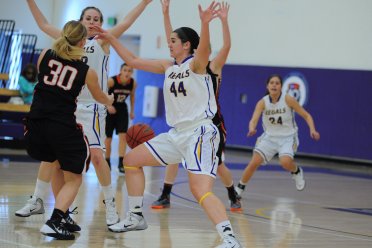 THOUSAND OAKS, Calif. – The Cal Lutheran women's basketball team used a relentless attack, forcing 28 turnovers and outrebounding Occidental 52-23 as it defeated the Tigers 67-48 Saturday night in Southern California Intercollegiate Athletic Conference (SCIAC) action. The Regals forced a season-high number of turnovers and allowed the Tigers just four offensive rebounds in its first conference win of the year.
Cal Lutheran revved up the defense from the get-go, employing a full court press and holding the Tigers scoreless on 31 of their 39 possessions in the first half. The Regals rushed out 12-5 lead after Taylor Messick spun in the paint and scooped in a basket and then Jessica Salottolo connected on a three-pointer on the next possession to give CLU a seven-point lead with 14:04 left in the first half.
Occidental's Ashton Reid sunk a three-pointer two minutes to pull the Tigers within four at 16-12 but Cal Lutheran would get baskets from Keeley Anderson, Sofia Cruz and Salottolo while forcing two turnovers to go back up by 10.
Natalie Stone was the difference for CLU in the opening period as she notched six steals in the first half alone to go along with four points and three assists.
The Regals closed out the first half on a 16-4 run to lead 37-22 at the break.
In the second half, Cal Lutheran saw its lead swell to as many as 21 with Cruz scoring four points and T. Messick sinking four free-throws to boost the Regals' offense.
Haley Graham would hit a three-pointer to cut the score to 64-46 with 3:12 left to play but Sam Hernandez and Hayley Jensen sank two free-throws down the stretch to ice the win for the Regals.
Salottolo led all scorers with 14 points while Cal Lutheran had six other players score at least five points. T. Messick was second with 10 while Chelsea Jacoby, Cruz and Stone each finished with eight. Jacoby and Stone nearly had a double-double each with Jacoby hauling a team-high 10 rebounds and Stone finishing with seven steals. Katy Lindor finished with eight rebounds and two assists.
Occidental was led by Michelle Naito-Lo who scored 11 points. Elizabeth Messick flirted with a triple-double, finishing with eight rebounds, six blocks and six points.
With the loss, Occidental falls to 7-5 and 1-3 in the SCIAC.
Cal Lutheran (5-7, 1-3 SCIAC) will have its shot a second SCIAC victory when it travels to Pasadena on Saturday, Jan. 11, when it takes on Caltech. Tip-off with the Beavers is scheduled for 7:00 p.m.
Box Score: CLU 67 OXY 48
CLU Twitter: https://twitter.com/clusports
Follow Natalie: @RegalsHoops
CLU Facebook: https://www.facebook.com/clusports