Information on Chris Knorr Invitational
CLU to host first meet of 2014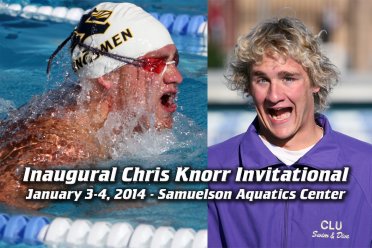 THOUSAND OAKS, Calif. – On Friday and Saturday, Jan. 3-4 the Cal Lutheran men's and women's swimming and diving programs will host the Inaugural Chris Knorr Invitational that will feature Pepperdine and UC Sana Cruz as well as the Kingsmen and Regals.
Knorr, who lost his battle with brain cancer in May 2013, was a member of the swim team while he was a student at Cal Lutheran. Prior to competition on Saturday, at 10:15 a.m., a short ceremony will honor Chris with his parents Ron and Ginny in attendance. Competition inside of the Samuelson Aquatics Center set to start at 10:30 a.m.
The list of events includes short, middle and long distances with relays and diving also taking place. The first scheduled event on Saturday is the 400 Medley Relay, followed by the 200 Freestyle, 100 Backstroke, 100 Breaststroke, 200 Butterfly, 50 Freestyle, 100 Freestyle, 200 Backstroke, 200 Breaststroke, 500 Freestyle, 100 Butterfly, 200 Individual Medley (IM), 400 Free Relay.
Diving will take place at noon and run concurrently with swimming events. The women will begin on the three-meter board and the men will compete first on the one-meter board before switching.
Friday afternoon swimmers will race in heats of the mile (1650) beginning at 4:00 p.m.
Complete results will be available at the end of competition on Saturday.
CLU Twitter: https://twitter.com/clusports
Follow Kelli: @kelli_clu_swim
CLU Facebook: https://www.facebook.com/clusports