Regals Breeze Past WPI on Final Day of Posada Royale Winter Classic
CLU defeats WPI 78-50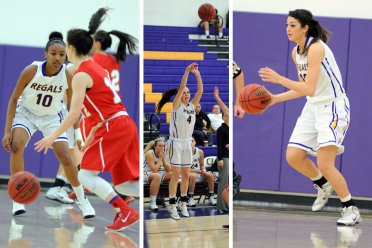 THOUSAND OAKS, Calif. – Jessica Salottolo was a perfect 7-for-7 from the field including five three-pointers as she scored 19 points and led Cal Lutheran to a 78-50 victory over Worcester Polytechnic Institute (Mass.) during the final day of the Posada Royale Winter Classic at the Gilbert Arena on Monday afternoon. The Regals shot 52 percent from the floor (33-for-63) and made a season-high nine three pointers.
The first half was closely contested with both teams holding the lead before Cal Lutheran used three three-pointers from Salottolo to gain a 36-30 advantage headed into the intermission. The Regals led for the first seven minutes of the game before Dani Davis and Yasmeen Luna each scored baskets to put the Engineers up at 13-12.
The lead was short-lived, however, as Keeley Anderson found Salottolo for an open three-pointer. Salottolo then came up with an errant pass on the defensive end and sent a cross-court pass to Sofia Cruz, who layed it up to put CLU ahead by four. Cal Lutheran came up with another defensive stop and Salottolo hit her second three-pointer from the corner after a skip pass from Natalie Stone. The freshman then capped the run on the next possession as she hit a three-pointer from well behind the arc with the shot-clock winding down and pushed CLU ahead at 20-13.
Cal Lutheran would cruise after coming back from halftime, outscoring the Engineers 42-20 in the second half. Leading 55-41 with 11:02 left to play, CLU went on an 18-5 run over the next six minutes to put the game out of reach. Katy Lindor had four points to start the run while Cruz poured in five more later.
Gianna Dibacco hit a three-pointer and Hayley Jensen made a slashing layup in the final minutes to close out the scoring for CLU.
In addition to Salottolo, Cruz reached double figures with 16 points. Trianna Owen was also perfect from the field (3-for-3) as she sunk both three-pointers she attempted and ended with eight points. Haley Hodgson tied Owen with eight points of her own while Chelsea Jacoby had seven to go along with a team-high five rebounds and five assists.
Davis led the Engineers for the second consecutive day with 14 points and Amaia Gritsko was second with 10. WPI had moments on offense during the game while shooting over 40 percent from the field, but CLU held the Worcester Polytechnic to just 8-for-23 shooting in the second half.
WPI drops to 3-6 after the loss.
Cal Lutheran (4-7) will resume action after the New Year when the Regals return to Southern California Intercollegiate Athletic Conference (SCIAC) play on Saturday, Jan. 4, when they host Occidental at 7:00 p.m.
Box Score: CLU 78 WPI 50
CLU Twitter: https://twitter.com/clusports
Follow Natalie: @RegalsHoops
CLU Facebook: https://www.facebook.com/clusports