Slugs Steal Game Two of Posada Royale
Day two of tournament complete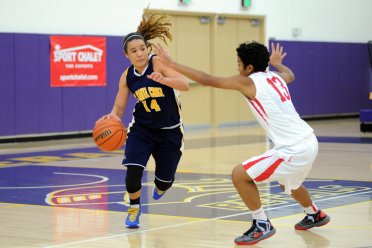 THOUSAND OAKS, Calif. – In a neutral site game between UC Santa Cruz and Worcester Polytechnic Institute (Mass.) at the Gilbert Arena it was the Banana Slugs to steal the second of three games in the 2013 Posada Royale Classic Tournament hosted by Cal Lutheran.
Though the teams were tied twice and the lead changed four times, it was all during the first eight minutes of action before UCSC took control of the momentum. Trailing by one at the 13:39 mark of the first half the Banana Slugs used a 13-2 run and never looked back. With just under nine minutes to play in the first stanza Geena Giovannetti knocked down a three-pointer to put her Slugs up by 10 and the squad would maintain a double figure lead throughout the remainder of regulation.
UCSC pushed its advantage to 19 points at the intermission by way of a jumper from Leah Parrish with just 13 ticks to go before the break. After halftime the Banana Slugs cruised. Late in the second Tyler Stewart connected for a three-pointer to produce the largest differential of the game at 32 points at 64-32.
UC Santa Cruz (10-6) spread out the offense today with 12 different players contributing to the tally. Parrish led all players with 13 points and Sarah Mackey was next in line for the Slugs with eight. Tyler Willis handed out three assists today to share the game-lead. Defensively, Lashay Alexander came down with a game-high seven rebounds followed by six from Parrish and Giovannetti nabbed a game-high five steals.
WPI (3-5) was paced by nine points from Dani Davis on a trio of three-pointers with Yasmeen Luna chipping in six as nine different Engineers netted as least one point. Siena Mamayek shared the game-high with three assists. On the glass, both Mamayek and Tess Nogueira grabbed six boards and seven players had a steal.
Tomorrow, Monday, Dec. 29 the 2013 Posada Royale Winter Tournament will conclude when WPI faces off with host Cal Lutheran (3-7) at 2:00 p.m. inside the Gilbert Arena.
Box Score: UCSC 64, WPI 37
CLU Twitter: https://twitter.com/clusports
CLU Facebook: https://www.facebook.com/clusports