Day One of Posada Royale Winter Tournament Belongs to Banana Slugs
CLU hosts three-team tournament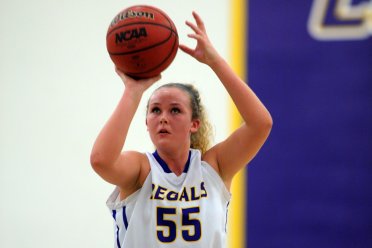 THOUSAND OAKS, Calif. – The first day of the three-day, three-team women's basketball Posada Royale Winter Tournament hosted by Cal Lutheran inside the Gilbert Arena went to the visiting UC Santa Cruz Banana Slugs by a 77-59 margin.
In an evenly matched first half the Regals shot just a touch under the Banana Slugs (46.7 percent) at 46.2 percent though UCSC led from the start and never trailed in regulation. After UC Santa Cruz opened a sizable lead in the early goings at 22-7 the Regals would execute solid defense over the final 10 minutes of the first half, forcing 14 total Slugs turnovers in the period, and chipped away to get within a pair at the 52 second mark on free-throws from freshman Trianna Owen. CLU trailed by just five, 39-34, at the intermission.
After the break Cal Lutheran got to within a point at 52-51 when Sofia Cruz sunk a pair of free-throws with 9:20 remaining in regulation. Unfortunately for CLU, down by three at 54-51, UC Santa Cruz went on a 12-2 run that included using a pair of turnovers to its advantage, converting fast break layups on back-to-back possessions to open a 58-51 advantage and went on to push the gap to double figures, a margin they would not relinquish for the remainder of the contest. The largest separation was indicated in the final score, coming on a three-pointer from co-leading scorer Sarah Mackey with 27 ticks to go.
The teams each had positive and negative moments throughout the contest as they exchanged baskets, turnovers, fouls and more. CLU forced 23 Slugs turnovers and converted those into 20 points and UCSC scored 26 points on 22 CLU miscues. In the end the biggest difference in the game came on the glass as UCSC pulled down 47 rebounds to the Regals' 30 and scored 12 second chance points while the Regals put in 11. Defensively, the Slugs had eight total blocks with Mackey, who also shared the game-high of 22 points with teammate Leah Parrish, recording five.
UC Santa Cruz (9-6) had four players in double figures with Erin Joo and Ryane Ortiz tallying 12 and 10, respectively. Tyler Willis and Geena Giovannetti each had five assists for a game-high and Giovannetti added a game-best nine rebounds.
Cal Lutheran (3-7) placed three players in double digits with Cruz recording a team-leading 15 points followed by 14 from Haley Hodgson and 13 from Chelsea Jacoby. Natalie Stone and Jessica Salottolo each handed out three assists for the Regals. Jacoby led all players with six steals and also had a CLU-best seven rebounds. Hodgson finished with five boards, four on the offensive end of the court, and both Stone and Keeley Anderson recorded a block.
Day two of the Posada Royale Winter Tournament will feature Worcester Polytechnic against UCSC on Sunday at 2:00 p.m. The final game of the weekend will take place on Monday, Dec. 30 between host CLU and WPI. Teams will tip-off at 2:00 p.m.
Box Score: UCSC 77, CLU 59
CLU Twitter: https://twitter.com/clusports
Follow Natalie: @RegalsHoops
CLU Facebook: https://www.facebook.com/clusports