Regals Battle Tough against Royals
CLU falls to HIU 72-57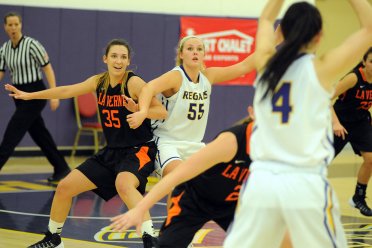 FULLERTON, Calif. – Jessica Salotollo scored 10 points and Keeley Anderson hauled in a career-high 13 rebounds as Cal Lutheran played evenly with Hope International in the second half but couldn't overcome 23 turnovers and fell to the Royals 72-57 Wednesday night.
The Regals were even with NAIA member Hope International in the second half being outscored by just a late basket 30-28. Cal Lutheran cut the HIU lead down to seven at 51-44 with 12:12 left to play after a basket by Chelsea Jacoby completed an 8-0 run by the Regals.
Hope International would go back up by double-digits but Hayley Hodgson and Salotollo would score on consecutive possessions to cut the lead back to nine at 61-52 at the 6:41 mark.
The Royals lead would swell to as many as 13 over the next three minutes but Cal Lutheran made one final comeback in the closing stages. With 3:32 left to play, Katy Lindor cut the lead to 12 after a free-throw and then Jacoby would hit two more free-throws on the next possession to make the score 65-55. The Regals forced an errant shot by HIU on the ensuing possession and Salottolo was able to come up with the defensive rebound and find Sofia Cruz, who was then fouled while shooting. Cruz sank both of her free-throws to bring CLU within eight at 65-57 with 2:47 left in the second half.
Unfortunately for the Regals, Hope International forced two turnovers down the stretch and sealed the win with a three-pointer from Brittany Bauman in the final minute.
The fact that Cal Lutheran had a shot to win in the final minutes was a testament to the Regals' resolve after the game began with a nightmarish start. Hope International opened the game with a 21-0 and eventually led 29-2 with a little over 12 minutes left to play in the first half.
Cal Lutheran would respond however with a 21-5 run to close out the half and make the score 34-23. The run was highlighted by two three-pointers from Salotollo and another by Lindor while Hodgson chipped in with four points of her own.
In addition to Salotollo's team-high 10 points, Hodgson and Lindor finished with second nine apiece. Jacoby poured in eight more points while Anderson had seven and Cruz and Taylor Messick each had six. Hodgson nearly had her first double-double of her career, hauling in a season-high nine rebounds. Freshman Janelle Porter made her collegiate debut, coming up with a rebound in three minutes of action.
Bauman and Andrina Rendon each had 22 points to lead the Royals. Rendon also had 10 rebounds to record the double-double.
With the win, Hope International improves to 8-1 on the year.
Cal Lutheran (2-6 overall) will look to rebound with a win before the Holiday Break when it hosts Wartburg (Iowa) on Sunday, Dec. 22, at 1:00 p.m.
Box Score: HIU 72 CLU 57
CLU Twitter: https://twitter.com/clusports
Follow Natalie: @RegalsHoops
CLU Facebook: https://www.facebook.com/clusports