Regals Knocked Off by Leopards
CLU falls to La Verne 85-63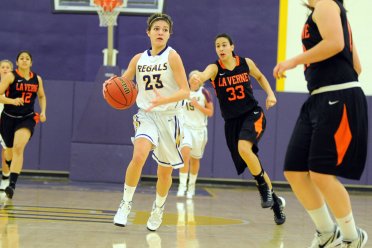 THOUSAND OAKS, Calif. – Chelsea Jacoby had a career-high 22 points and 10 rebounds while fellow teammate Sofia Cruz nearly had a double-double of her own with 14 points and eight boards but it wasn't enough to turn back a potent La Verne offense as Cal Lutheran fell to the Leopards 85-63 Thursday night inside of Gilbert Arena. The Leopards had four scorers reach at least 14 points and capitalized on a cold-shooting night from the Regals.
The Regals went back-and-forth with the Leopards in the first seven minutes, tying ULV at 16-16 with 13:17 left in the half after Jacoby found Jessica Salotollo on a back-door cut. Unfortunately for CLU, La Verne would go on a 10-2 run over the next two minutes to go up 26-18.
Sam Hernandez would sink a jumper from the baseline to put CLU to within six at 26-20 but La Verne would flex its defensive muscle again, holding the Regals without a basket over the next six minutes and headed into halftime leading 45-26.
Cal Lutheran played much better in the second half and the cut the deficit to 7 points at 53-46 with 13:38 left to play in the game following a 10-3 run. Jacoby started the run when she hauled in an offensive rebound and scored on a put-back. After La Verne scored on the following possession Hernandez connected on a jumper from 15-feet away to make the score 52-37. The Leopards would get a free-throw before Cruz nabbed a rebound following a Jacoby missed-three-pointer and battled through traffic for a basket that cut the lead to 14. The Regals then forced a turnover and Keeley Anderson and Katy Lindor scored on back-to-back possessions to get CLU within 10. Jacoby capped the run when she hit the Regals first three-pointer of the game to make the score 53-46.
La Verne would respond by going on a 12-0 run over the next two minutes that stopped any further comeback for the Regals.
Despite the run Cal Lutheran was outscored by just three points in the second half at 40-37. However, the difference was the La Verne non-starters who outscored the CLU bench 35-15 for the game.
In addition to Cruz and Jacoby going for double-figures, Anderson nearly had a double-double of her own, scoring seven points and grabbing 10 rebounds. Hernandez was fourth on the team with six points and Natalie Stone finished with a career-high seven assists.
The Leopards were led by Megan Musashi's 15 points while Lindsay Foster, Kay Hurd and Emily Meyers all scored 14.
With the win, La Verne improves to 5-2 overall and 2-0 in the Southern California Intercollegiate Athletic Conference (SCIAC).
Cal Lutheran (2-4, 0-3 SCIAC) will look to rebound on Sunday, Dec. 15, when it hosts San Diego Christian at 5:30pm.
Box Score: ULV 85 CLU 63
CLU Twitter: https://twitter.com/clusports
Follow Natalie: @RegalsHoops
CLU Facebook: https://www.facebook.com/clusports
Regals Facebook: https://www.facebook.com/cluwomensbasketball