Russell Earns Alyssa Sialaris Award
CLU senior to play overseas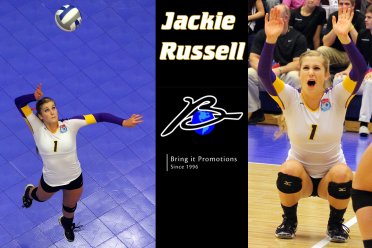 WHITTIER, Calif. – Cal Lutheran senior setter Jackie Russell has been announced as the recipient of the Inaugural "Alyssa Sialaris Award" and will attend a European Exposure Tour that was established to honor the former Southern California Intercollegiate Athletic Conference (SCIAC) two-sport standout who passed away in April 2013.
The January European Exposure Tour (JEET) hosted by Bring It Promotions (BIP) is an opportunity for players to get a glimpse of what it would be like to play professional volleyball in Europe. Russell's admittance will be covered by the foundation created in honor of Sialaris.
After her tragic passing last spring, former Whittier College coaches Ali Oliver, Victoria Larios and Jennifer Espinoza created a fund in memory of Sialaris and aid in sending an athlete on the same European Exposure tour each year in Alyssa's honor. Sialaris was an All-SCIAC, All-Region and All-America performer as an outside hitter for the volleyball team and a thrower for the track & field team. This year monies were raised by selling t-shirts.
Sialaris had plans to play professional volleyball in Europe after graduation. She attended the Bring It Promotions January European Exposure Tour in 2013 and was determined to continue her playing career overseas.
"Jackie and I are both thrilled and humbled about her receiving this scholarship," CLU head coach Kellee Roesel went on, "Alyssa was the epitome of a hard-working, passionate and competitive athlete and Jackie is made from the same mold. I am sure that Alyssa would be very happy with the committee's choice and I know that Jackie will be an excellent representative for both Cal Lutheran and the SCIAC."
All senior Southern California Intercollegiate Athletic Conference (SCIAC) volleyball players with aspirations of playing professionally, who were recommended by their coach, were qualified and welcomed to apply for the scholarship. The application process included submitting stats and awards along with a statement from the coach as well as a personal statement explaining why they felt they should receive the award. A committee, comprised of Oliver, Larios, Espinoza and the Sialaris Family, selected the recipient.
"After much deliberation, we all agreed that Jackie truly deserved this award," Oliver said, "Her personal reasons for pursuing a professional career in volleyball moved us and her proven work ethic reminded us all of Alyssa."
Russell is arguably the most decorated volleyball player to come out of Cal Lutheran as a four-time All-SCIAC, four-time All-West Region and four-time All-American selection with the CLU career assists record. The fifth-year graduate student just led the Regals to a 35-2 season including a fourth consecutive SCIAC title and an appearance in the NCAA Division III Volleyball Championships, where the team was outmatched by Calvin in five games with the fifth set going the distance and finally ending at 18-20.
The group selected for the 2014 tour will travel Europe, playing in matches against some of the top ranked teams in the region and will surely be another experience that Russell will never forget.
"I am extremely lucky and blessed to be able to see what professional volleyball is all about," Russell went on, "I am looking forward to the European Tour not only to play, but also to travel and be out of my element as I have never been anywhere outside of the US."
For more information on BIP, please visit, www.bringitpromotions.com and please keep Sialaris' memory alive by visiting www.rememberalyssa.com.
CLU Twitter: https://twitter.com/clusports
Follow Kylie: @k_mclogan and Pua: @puamookini
CLU Facebook: https://www.facebook.com/clusports