Regals Fall on the Road to Chapman
CU defeats CLU 81-72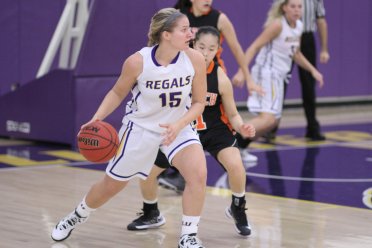 ORANGE, Calif. – Cal Lutheran had three scorers in double-figures but couldn't hold off Chapman as the Panthers shot 54.4 percent from the field and won 81-72 Saturday night at the Hutton Sports Center. The Regals were led by Chelsea Jacoby and Jessica Salottolo who each scored 16 points while Sofia Cruz added 12, her third time in five games she has scored in double figures.
Cal Lutheran trailed 24-16 midway through the first half before Hayley Jensen, Katy Lindor and Salottolo all scored during a 6-0 run to tie the game at 24-24. The Panthers and Regals would exchange baskets until Chapman went 4-for-4 from the free-throw line and Andrea Villanueva hit a jumper with four seconds left in the first half, giving Chapman the 38-30 lead at intermission.
The Regals quickly whittled away the Chapman lead to start the second half and then took the lead after Jacoby made a jump shot at the 13:45 mark and put CLU out in front at 46-45. Chapman would score on the following possession but Jacoby answered again, sinking a basket and pushing the Regals back ahead at 48-47.
Following Jacoby's basket, Chapman later pulled ahead at 61-60. With a little over seven minutes left to play, Haley Hodgson grabbed an offensive rebound following a Salottolo shot and converted on the put-back, giving CLU the lead at 62-61. The Regals then forced a turnover and Salottolo was fouled on the ensuing possession. She made one of two free-throws to put CLU up by two points but Chapman would then go on a 12-2 run to pull ahead at 77-65.
Salottolo would hit a three-pointer with 22 seconds left to cut the lead to six at 78-72 but Chapman hit two free-throws in the final 15 seconds to secure the win.
In addition to the trio in double-figures, Cal Lutheran got six points from Hodgson and Sam Hernandez each. Jacoby led with six rebounds while Taylor Messick and Lindor hauled in five a piece. Jensen was a force defensively, coming up with three steals.
Sandra Gao led Chapman with 23 points and Kimi Takaoka was second on the team with 20 points.
With the win, Chapman improves to 3-2 overall and 1-1 in the Southern California Intercollegiate Athletic Conference (SCIAC).
Cal Lutheran (2-3, 0-2 SCIAC) will be back in action next Thursday, Dec. 12 when it hosts La Verne at 7:30 pm.
Box Score: CU 81 CLU 72
CLU Twitter: https://twitter.com/clusports
Follow Natalie: @RegalsHoops
CLU Facebook: https://www.facebook.com/clusports
Regals Facebook: https://www.facebook.com/cluwomensbasketball