Machida Breaks Pomona-Pitzer Pool Record in SCIAC Opener
Regals compete for only time of December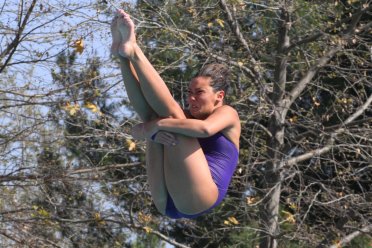 CLAREMONT, Calif. – After a three-day meet in Northern California and an early season competition at Pepperdine the Cal Lutheran women's swimming and diving team opened their Southern California Intercollegiate Athletic Conference (SCIAC) schedule on the road at the Haldeman Aquatics Center today, falling 201-92 to Pomona-Pitzer.
In the first SCIAC meet of her senior season, Sheyenne Machida made it one to remember, breaking the Pomona-Pitzer pool record on the one-meter diving board with a 6-dive score of 239.40, edging the previous mark of 233.35 set by Jessica Robson of Occidental in 2011. Machida went on to win the three-meter competition as well, accumulating a score of 180.15.
Also earning a first place finish for the Regals today was senior Kelli Miller whose time of 2:33.67 was nearly two full seconds faster than second place in the 200 Breaststroke. Miller was second to the wall in the 100 back (1:12.13) and 200 Individual Medley (2:22.68).
Joining Machida on the boards today was freshman Tianna Pasko who teamed up to go 1-2 on the one-meter boards by surpassing the 200-point plateau for a score of 211. 50.
To open her senior season, Shelby Brooks finished second in a pair of backstroking events. In the 100 Backstroke she hit the wall in 1:05.35 and she went a 2:16.15 in the 200 back. She also swam the 200 IM in 2:23.43 to place third.
Mimi Harbach opened her junior campaign with a 1000 yard Freestyle swim of 11:24.05 to place second behind PP freshman Kay Sterner (10:49.63) who was 15 tenths of a second off the pool record time set last season. Harbach went on to place second in the 500 free, completing the race in 5:28.30. Next to the wall was CLU freshman Annika Stenfjord who clocked in at 5:30.19.
Swimming to a top- CLU finish in both the 50 free (26.82) and 100 free (58.55) was senior Sarah Forsythe while senior Julianna Rios was the first CLU swimmer to complete the 100 Butterfly with a time of 1:03.58.
To wrap up the meet the CLU 200 Free Relay team of Taylor Faust, Rios, Stenfjord and Forsythe joined forces for a second place swim of 1:44.50 following another pool record performance from the PP quartet of Cayla Nishizaki, Vicky Gyorffy, Johanna Rayl and Alex E. Lincoln who finished in 1:39-even. The previous record belonged to two teams that shared a time of 1:39.38.
Cal Lutheran (0-1) will be away from the competition pool until after the New Year when the Kingsmen and Regals host the Inaugural Chris Knorr Invitational on Jan. 3-4 at the Samuelson Aquatics Center. Friday events are scheduled to begin at 4:00 p.m. with competition continuing on Saturday morning at 10:00 a.m.
Results: PP 201, CLU 92
CLU Twitter: https://twitter.com/clusports
Follow Kelli: @kelli_clu_swim
CLU Facebook: https://www.facebook.com/clusports