All-American Ending for Five
CLU volleyball players recognized nationally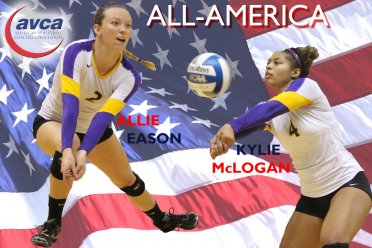 LEXINGTON, Ky. – Announced at the NCAA Division III Volleyball banquet in Holland, Mich. a few weeks ago, the American Volleyball Coaches Association (AVCA) No. 2 Cal Lutheran senior, sophomore duo of Kylie McLogan and Allie Eason was named to the AVCA First and Third Team All-America, respectively, while three others garnered Honorable Mention accolades.
Less than a week after taking home AVCA All-West Region accolades, the group of five was recognized again.
McLogan and Eason were the top two attackers on the Regals roster and accumulated 694 kills during the regular season, before adding significantly to that total in Regional play with 95 over 12 games, propelling Cal Lutheran into the Elite Eight. Prior to playoff action McLogan hit for a .265 average while Eason was at a .223 clip. Serving, McLogan led the team with 42 aces and Eason was third for CLU with 32.
Defensively, the pair combined for 627 regular season digs, paced by Eason with 324 for 3.03 per set with McLogan recording 303 in 103 sets. At the net McLogan tallied a team-leading nine solo blocks, adding 37 block assists for a total of 46 and Eason contributed with 49 total blocks that included three solo stops.
Overall, McLogan was responsible for 4.52 points per set in the regular season with Eason adding 3.33.
McLogan closes out her career as a three-time All-American and a three-time AVCA All-West Region recipient while earning SCIAC Player of the Year honors in 2012 adding First Team All-SCIAC selections in both other seasons she played for the Violet and Gold. She owns the CLU career kills record of 1,421 and broke into the Top-10 for digs with 1,056 (5th) and service aces with 123 (9th).
After being regionally recognized for the first time of her collegiate career Eason landed among the top players in the country as well. She is now also a two-time All-SCIAC recipient. With two years of competition under her belt, she is on pace to break into the CLU Top-10 in the future.
Jackie Russell became a four-time All-American with an honorable mention nod. She owns the CLU career record for assists with 4,978 and is 3rd with both 1,156 digs and 155 service aces. During the regular season she handed out 947 assists to lead the team, adding 35 aces, which was second to McLogan.
For the first time in her career both Lauren Rohach and Hayley Tamagni hauled in All-America recognition to cap her senior season. The middle blocking duo combined for 163 total blocks. Tamagni recorded eight solo stops and each had 77 block assists. Rohach hit for a .326 average with 187 kills as Tamagni notched 188 for a .293 hitting percentage, adding 17 service aces.
Cal Lutheran (35-2) concluded its season with the best record in school history and finished as the 2013 NCAA Division III National runner-up.
Release: 2013 AVCA All-America
CLU Twitter: https://twitter.com/clusports
Follow Kylie: @k_mclogan and Pua: @puamookini
CLU Facebook: https://www.facebook.com/clusports