Fourth SCIAC AOW Selection for McLogan
Senior outside hitter caps career with final honor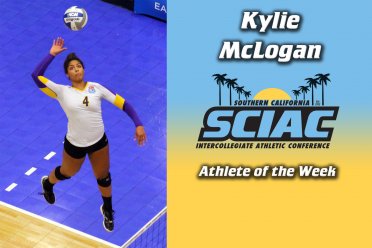 PASADENA, Calif. – Earlier this week Cal Lutheran senior Kylie McLogan capped her collegiate career with one final honor, begin selected the Southern California Intercollegiate Athletic Conference (SCIAC) Athlete of the Week for the second consecutive week and fourth time this fall as she concluded her playing days by nearly leading the Regals to a national title, returning to Southern California as the national runner-up.
McLogan ended her Cal Lutheran career with a memorable night despite CLU falling in five sets, the third going to 20-18 to Calvin in the National title game. Overall in the 2-1 tournament run, McLogan recorded double-doubles in each match to accumulate 69 kills in 12 games for a 5.75 per set average and 52 digs for 4.33 per set. Additionally, McLogan was responsible for one solo block and seven block assists while she handed out four assists and had a service ace.
Each day she was the kills leader. In the first match of the weekend she had 22 kills and 16 digs in a 3-1 victory over Clarkson. On Friday night, McLogan put down 19 kills with 10 digs against Wisconsin-Stevens Point. In the National Championship final she left it all on the court with a career performance of 28 kills and 26 digs, both match highs.
Days after being named AVCA First Team All-America, she was selected to the NCAA Division III Volleyball All-Tournament team by producing 6.21 points per set, also earning herself one of the loudest ovations of the weekend when announced to the crowd on Saturday night. McLogan also garnered AVCA All-West Region and First Team All-SCIAC honors this year.
McLogan is one of four CLU student-athletes to have earned SCIAC AOW awards in eight different weeks. Melissa Skiba was recognized twice this year for her cross country performances while Hayley Tamagni and Taylor Will were recipients for volleyball and women's soccer, respectively.
SCIAC Website: SCIAC Female Athlete of the Week
CLU Twitter: https://twitter.com/clusports
Follow Kylie: @k_mclogan and Pua: @puamookini
CLU Facebook: https://www.facebook.com/clusports