Kingsmen Score Upset in Season Finale
CLU upsets No. 3 Chapman 14-11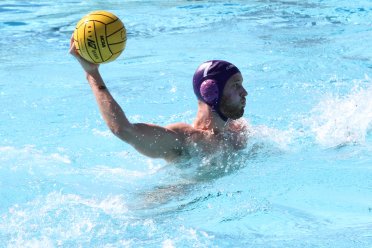 ORANGE, Calif. – The Cal Lutheran men's water polo team concluded its 2013 season in impressive fashion, scoring an upset over No. 3 ranked Chapman 14-11 in the fifth place game of the Southern California Intercollegiate Athletic Conference (SCIAC) Tournament Sunday. The Kingsmen were led by Hunter Hamaker's five goals and goalkeeper Jesse Owens' 16 saves.
Cal Lutheran used an outstanding defensive performance in the first quarter as it pulled out to a 2-0 lead. Owens had an incredible eight saves in the quarter alone while Hamaker and Max Zappas both scored goals.
The teams each exchanged three goals in the second quarter with Hamaker, Zack Card and Shea Craig scoring for the Kingsmen.
Following halftime, the teams again each netted three goals with Cal Lutheran leading 8-6 headed into the final quarter
The Panthers mounted a final rally in the final quarter, twice cutting Cal Lutheran's lead to one but Hamaker saved his best for last, scoring three goals and thwarting any further Chapman attack.
In addition to Hamaker's goals, Zappas tacked on three more and Nathan Ortega had two. David Sparks along with Ortega both had two assists to lead the Kingsmen offensively.
Defensively, Owens also nabbed four steals while Zappas nabbed three steals and Taylor McMaster, Ortega and Sparks all had two.
Cal Lutheran finishes the season with a 14-16 record, its fourth straight season with at least 14 wins. The win Sunday also avenged an 13-5 loss to the Panthers earlier this season. In addition to Hamaker, Sparks and Zappas, Derrick Graham, Spencer McGrath and Conrad Sheffer suited up for Cal Lutheran for the final time Sunday.
Box Score: CLU 14 CU 11
CLU Twitter: https://twitter.com/clusports
Follow David: @D_Sparks2
CLU Facebook: https://www.facebook.com/clusports