Kingsmen Rebound with Win Over Leos
CLU defeats Leopards 20-15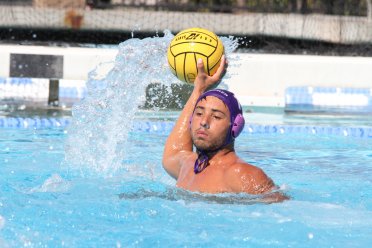 THOUSAND OAKS, Calif. – The Cal Lutheran men's water polo team exploded for a season-high goal total as it defeated La Verne 20-15 Saturday evening during the second round of the Southern California Intercollegiate Athletic Conference (SCIAC) tournament. The offensive outburst came a day after being held to just six goals against Redlands. AJ Franklin, Hunter Hamaker and Max Zappas all scored three goals each to lead the Kingsmen charge.
Cal Lutheran rushed out to a 6-3 lead to open the game with Franklin scoring two goals in the first three minutes. The Leopards would climb back to 5-3 but Hamaker pushed CLU's lead back up to three after scoring with less than a minute left in the quarter.
The Kingsmen scored on three straight possessions midway through the second quarter with Hamaker, Cameron Hauer and Nathan Ortega all finding the back of the net.
Holding an 11-6 at half, La Verne clawed back into the game, scoring six goals in the third quarter. Fortunately for the Kingsmen, Mike Potter was able to get Cal Lutheran back into the scoring column, tallying a goal with a 1:30 left in the quarter.
Jake Gallagher scored 64 seconds into the fourth quarter to put CLU up 18-12 and then Taylor McMaster scored a minute later to put the game out of reach and secure the win for Cal Lutheran.
David Sparks and Spencer McGrath led the Kingsmen with three assists each.
Defensively, Cal Lutheran got three steals from McMaster and two from Mike Artega.
Jesse Owens played all four quarters in goal and logged 14 saves.
Cal Lutheran (13-16) will now face Chapman on Sunday, Nov. 24, in the fifth place game. The contest is slated to get underway at 11:30am. Chapman will stream the game live at the following link: Chapman video link
Box Score: CLU 20 ULV 15
CLU Twitter: https://twitter.com/clusports
Follow David: @D_Sparks2
CLU Facebook: https://www.facebook.com/clusports