Skiba Runs to All-American Ending
CLU seniors conclude careers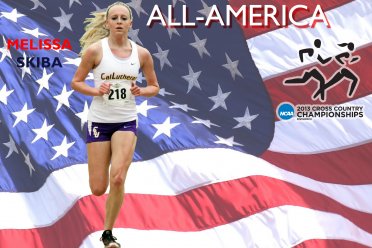 HANOVER, Ind. – For the second consecutive year, Melissa Skiba ended her cross country season by earning All-America. This morning at the 2013 NCAA Division III Women's Cross Country National Championships the senior harrier ran to a seventh place finish in a field of 269 to cap off her collegiate career.
On a cold day in Indiana, far from the warm, dry Southern California weather, the course was grassy and muddy, something the CLU runners are not accustomed to.
"It was freezing, about 30 degrees (colder with the wind chill)," Skiba said, "It was a drastic change to what we have been used to racing all year in California."
The conditions did not deter Skiba from doing what she is known for doing; running with the best athletes on the course. Hanging with the top pack throughout the 6K race, Skiba crossed the line in 21:29.6, pacing a 5:46 mile, to finish 7th.
"The race was packed with talent," she went on, "I am so grateful to end my cross country career in such a positive way."
Positive it was as Skiba improved four spots from her finish a year ago at the meet, to claim her second All-America award as the top-35 student-athletes to complete the course take home the honor.
In 2013 she was not alone in the Midwest. Joining Skiba at the national level this year was classmate Ashley Frese who completed her first NCAA National race in 24:01.9 to round out her career.
"It was such a great time having Ashley with me and it was comforting having a teammate to share this experience with," Skiba added, "We have both worked very hard and knew prior to the race that we were meant to be running at the Nationals." She concluded, "We feel blessed to have this opportunity."
Skiba was the top West Region finisher, outkicking Michaela Freeby, a junior from Willamette who won the West Region meet a week ago at Pomona-Pitzer.
The individual champion today came out of St. Scholastica as senior Chelsea Johnson claimed the crown with a run of 21:11.7, winning by nearly11 full seconds.
Earning the team title was Johns Hopkins, combining for 85 points, as the only team to finish with a total under 100. Williams placed second and Middlebury rounded out the top-three teams today.
Southern California Intercollegiate Athletic Conference (SCIAC) champion Claremont-Mudd-Scripps finished 14th as a team. Individually from the SCIAC Claire Brickson of Pomona-Pitzer placed 169th in a time of 23:06.2.
Both Frese and Skiba plan to suit up for the Regals track and field team this spring prior to graduation in May.
Tournament Central: 2013 NCAA Division III Nationals
Results: 2013 NCAA Division III Nationals Results
CLU Twitter: https://twitter.com/clusports
Follow Amanda: @webringinXCback
CLU Facebook: https://www.facebook.com/clusports