Kingsmen Fall in First Round of SCIAC Tournament
CLU falls to Redlands 8-6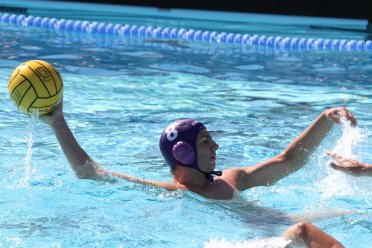 ORANGE, Calif. – The Cal Lutheran men's water polo team had a balanced attack with six different players scoring goals but couldn't overcome a 5-3 halftime deficit, falling 8-6 to Redlands in the first round of the Southern California Intercollegiate Athletic Conference (SCIAC) hosted by Chapman University.
The Kingsmen got off to a slow start, falling behind 3-1 in the first quarter but battled back in the second, exchanging two goals apiece with the Bulldogs.
Backed by several of Zack Card's game-high six steals, Cal Lutheran again matched the third seeded Bulldogs goal for goal, scoring two in the third quarter and trailing by just two at 7-5. Jesse Owen shined for the Kingsmen in goal, tallying nine saves throughout the game.
The final quarter saw both defenses continue to flex their muscles, with each team scoring just one goal. Trailing by just a pair entering the fourth quarter, Cal Lutheran surrendered an early goal before AJ Franklin was able to score with 1:32 left. Unfortunately for CLU, it couldn't muster another goal to tie the game.
Taylor McMaster, Spencer McGrath all had a goal and assist while Nathan Ortega, Hunter Hamaker and Card had the other goals for CLU.
Max Zappas chipped in with a field block and an assist in the loss to the Bulldogs.
In addition to Card's six steals, Cal Lutheran got two steals each from Franklin, McGrath, McMaster and David Sparks.
Following the loss, Cal Lutheran (12-16) will play La Verne Saturday, Nov. 23 at 7:00pm. Chapman will stream the game live at the following link: Chapman video link
Box Score: UR 8 CLU 6
CLU Twitter: https://twitter.com/clusports
Follow David: @D_Sparks2
CLU Facebook: https://www.facebook.com/clusports