McLogan Meets More Milestones
CLU players meet individual marks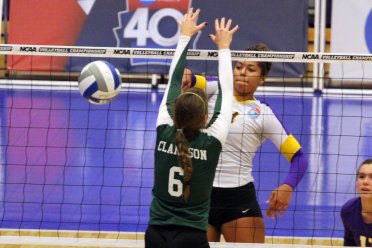 HOLLAND, Mich. – During a magical 2013 campaign for the 2013 Cal Lutheran volleyball team, individual milestones continue to be met as school records also fall. On a night that CLU finally got over the hump and won a game in the Elite Eight under the tutelage of head coach Kellee Roesel, she also saw Kylie McLogan reach more memorable marks.
She is now one of just three players in CLU history with more than 1,000 kills and 1,000 digs, joining Summer Plante-Newman (1,154 kills, 1,038 digs) and Tracy Little (1,020 kills, 1,202 digs).
In the final set of a four-game match against Clarkson, McLogan broke her own single-season kills record, which now sits at 473, two more that the tally she reached a year ago. With her 22 on Thursday night during the quarterfinals of the NCAA Division III Volleyball Tournament in Holland, Mich. the senior outside hitter also pushed her career school record total to 1,352.
Additionally, after recording 16 digs against the Golden Knights, McLogan broke the 1,000 career digs plateau and now has 1,004. She ranks ninth all-time at CLU for career digs. Jackie Russell also dug her way up the ladder with eight to surpass former teammate Jacki Richards and take over the third spot on the CLU career list with 1,129.
Russell also put down a service ace to move into a tie for third place all-time with another former teammate and now coach, Rachel Smith, as each has 151. She added to her career assists record that is now at 4,835. Jena Chavez is just 10 assists away from moving into sixth all-time for a career at CLU as well.
Allie Eason earned her name in the record books twice tonight, now sitting at ninth for a single-season in kills (350) and tied for 10th with 387 digs.
McLogan also broke her way into the top-10 in a single-season for aces with 45.
Cal Lutheran (34-1) will be back in action tonight in the Final Four of the 2013 NCAA Division III Volleyball Championships at Hope College when the Regals face No. 19 Wisconsin-Stevens Point (35-4) at 4:30 p.m. (PST) in the DeVose Field House.
Career Records: CLU Volleyball Career Records
Season Records: CLU Volleyball Season Records
Tournament Central: 2013 NCAA Division III Volleyball Tournament
Bracket: 2013 NCAA Division III Volleyball Tournament Bracket
CLU Twitter: https://twitter.com/clusports
Follow Kylie: @k_mclogan and Pua: @puamookini
CLU Facebook: https://www.facebook.com/clusports